Takayama is a sweet, smaller town with a population around 100,000.  It is a very different pace than Tokyo, and reminds me more of home.  I actually learned that Takayama is a sister city to Denver, and we did have some snow here, so that must be why I felt more at home here.  This morning, we started with a traditional Japanese breakfast at the ryokan.  The Japanese breakfasts are very different, and usually full of different kinds of tofu and fish. It is neat seeing different kinds of breakfast.  After everyone ate, we went over to a morning Miya-gawa market.  It was a few blocks of different street vendors and stores that had lots of fun odds and ends.  They specialized in turnips in this area, so I saw lots of pickled turnips being sold everywhere. 
Then we went to the Jinya-mae (which means in front of the Jinya) market.  This was more of a parking lot of tents pitched and people selling food, drinks, spices and souvenirs.  They had some neat floral arrangements of flowers which included branches of peppers.  I have never seen peppers included in a floral arrangement before, but it looked really neat!  I would have bought one if I knew it would last the rest of my travels.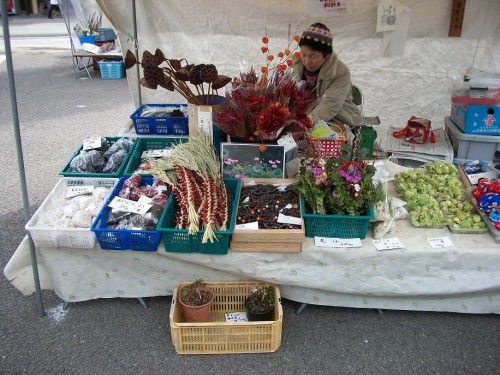 After this, we went into the Jinya, which is a national historic site, and a branch office of the Edo Bakufu government.   We got to see room by room how order was done by the government officials, traditional armor worn by the warriors, farm house storage for rice and other things, etc.  Back in the edo period, the average height of a Japanese man was 5 feet.  I myself am 6 feet tall, so while we were wandering around, we had to duck a lot as to not hit our heads.   They also seemed to have lots of simple but smart ideas, such as security measures in locking the windows by a simple puzzle/block of wood, and ways to heat up your water (from boiling to lukewarm) by raising and lowering a kettle.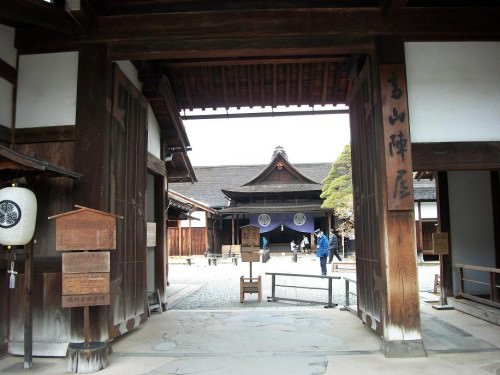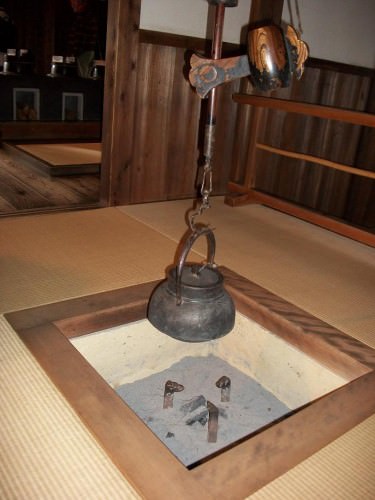 Then we headed up to the Sanmachi Suji, which is a popular area for shops and sake breweries.  We were able to sample some different types of sake and schochu (which is distilled liquor that ends up similar to vodka).  We purchased a few items to bring back as gifts.  We were also lucky enough to see   one of the floats being pulled out of a storage space, as they were preparing it for one of their festivals.  They have two festivals each year:  one in the spring to ask for a good harvest, and one in the fall thanking for a good harvest (hopefully they have a good one!). I also kept seeing these pretty potted plants growing all around, and they looked like roses, but not quite.  I found out they were actually cabbage!  Go figure!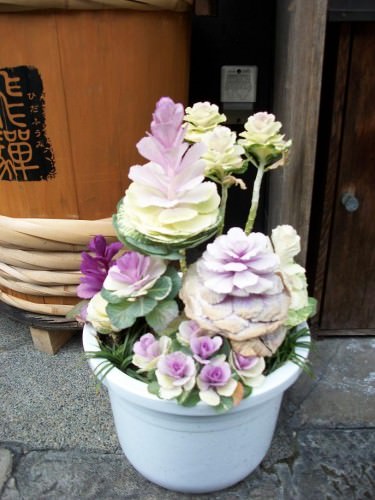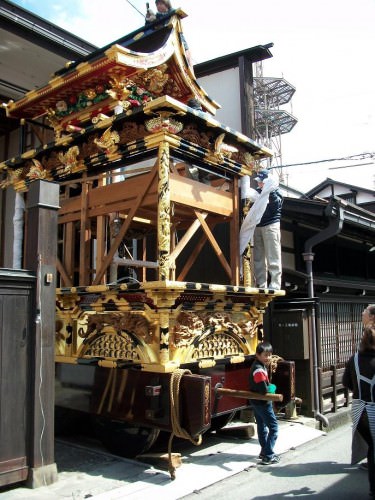 The rest of our afternoon was free.  I was able to try a green tea latte (I can`t remember the exact name of it, but it was delicious!), and we had some hida beef on a stick.  Marshall and I did some laundry at a local laundry mat, and exchanged more travelers checks at the local post office.   I wish I had packed a bit better.  Then we had a dinner at the ryokan with the rest of the tour group.  They kept bringing out all these delicious types of foods, and we ate just about everything they gave us!  Almost everyone in our tour group wore yukatas, which was really neat.  After dinner, we went to bed pretty promptly, since we were tired and needed to get up early the next morning.