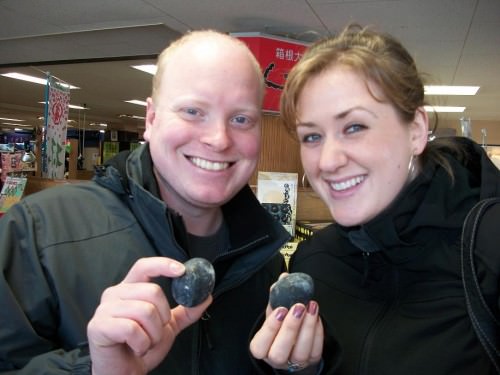 Before I forget, I wanted to share a few pieces of information with you.  Our guide, Charlie, asked us if we knew why the cherry blossom trees are so beautiful, and it was because they don't have any leaves with the blossom.  I never realized or thought of that, so I thought it was neat.  Just the flower for a week or two, and then they fall off and the leaves come in.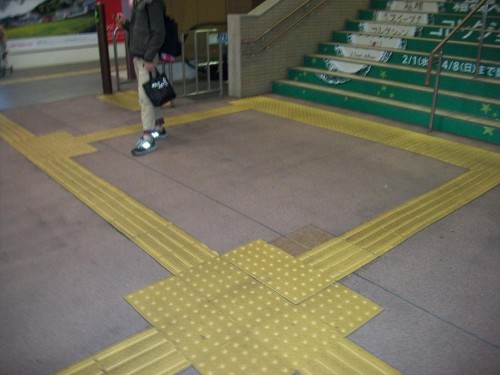 Also I am so impressed by how friendly the walkways, buildings and towns are for the blind.  They have a textured part of the sidewalk on every street and in every subway, and often any building.  It is such a great system, and a wonderful thing.
So to finish off last night, I did end up using the hot springs at our ryokan.  Our rooms in this ryokan were much larger at this location, and they had the natural hot springs (different rooms for men and women).  The procedure for this is to enter the locker room and disrobe, then go to the bathing stations and clean yourself.  I am not particularly fond of being in the nude in front of other people, so I waited till later in the evening, which worked out as there was no one else around. After you clean yourself, you are welcome to soak in the clean hot springs.  They had a few different ones, one inside, and a few outside, all different temperatures.  It was relaxing and nice, though I eventually wished I had someone to talk to, haha.
This morning we all met up at 7:45 and headed to the Hakone railway.  We took a few trains up to the gondola.  The gondola was a fun experience,  and we were lucky enough to see a fantastic view of Mount Fuji.  Apparently Mount Fuji is only visible 20% of the time, so were really blessed to have such a great opportunity. On the ride up to the top, Charlie sang a song and played  a song on his recorder for us, which was lovely, and he said it was to a way to ask the mountain to show itself to us.  Once we got to the top, we looked around, and boy was it windy up there!  You could also see the steam from the geothermal activity.  Marshall and I did purchase some black eggs to eat, which are eggs boiled in the sulpher water.  It is said that one egg will add 7 years to your life.  It tasted good, but just like any other hardboiled egg.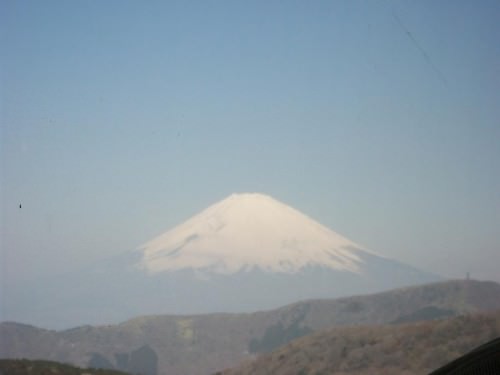 Then we took the gondola down the other side, and went down to the lake.  We boarded a boat that looked like a pirate ship, which was a lot of fun for me (if you haven't noticed, I am very easily entertained).  We had a nice ride from the top of the lake to the end, which was about half an hour.  Then we had a nice walk through some very tall cedar trees, to a station where the bus would take us back to the subway.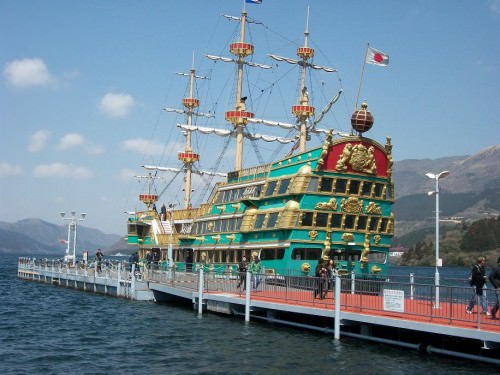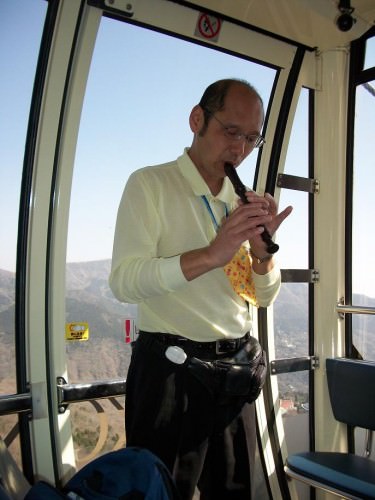 Then we traveled a couple hours, and met our next guide, Mike Roberts.  He joined us on the next train ride to Takayama.
We arrived at the ryokan, and it has been the most beautiful one so far, and so traditional!  Our particular room is very large, with a main room, a tea/fireplace room, and sleeping area.
After we checked in, a group of us went to have the famous Hida beef, which is basically the same thing as Kobe beef.  Both Marshall and I thought it was the best beef we have ever had!  The bites were almost like butter melting in your mouth, it was amazing.  We are very glad we went to the restaurant.  After dinner, we went back to our ryokan to make some tea and sit around by our fire place (not all rooms had this feature).  We are now wrapping up our evening.