Japanese Gardens 101 – Part 2: Japanese Garden Types
We continue our garden discussion with a brief description of some of the common Japanese garden types. It should be noted that few gardens will be just one these types. Most gardens could be classified into two or more of these types.
Pond Gardens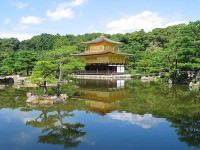 The idea of pond gardens were first introduced from China as early as the 6th century and soon became popular with the Imperial Court during the Asuka and Nara periods. Aristocrats of the Heian period built even larger ponds, which complemented the Shinden-style of architecture, the most prominent architectural style of the era. Shinden style features a low-slung main building flanked by outlying pavilions. Pond gardens continued to grow in popularity after the Heian period.
Initially, pond gardens were designed for viewing from boats. These gardens were intended to be viewed from the vantage of a boat on a large pond. The garden's design lends itself to the low-level angle of those sitting in boats and the varied perspectives as the boat moved around the garden.
Larger boating gardens gradually gave way to smaller pond gardens meant for strolling about. These gardens featured paths beside the pond, with small islands often added in the ponds. Visitors could enjoy different views as they followed the hilly path that circled the pond. The main objective of this design was for strollers to enjoy different scenic perspectives from different vantage points located throughout the garden. Sometimes artificial hills were added to provide different perspectives. A good example is Kenrokuen in Kanazawa and Korakuen in Okayama.
Warrior Gardens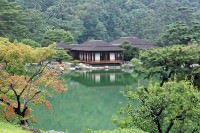 Starting in the Muromachi and Momoyama periods and continuing into the Ed period, fuedal lords eager to display their wealth and power, created elaborate gardens. Many of these gardens experimented with combining "wet" and "dry" elements by including a pond as well as dry, graveled areas. The feudal lords also collected large rocks, often confiscated from other gardens, which were used to create bold rock compositions.
Another innovation of the Momoyama period was the use of evergreen shrubs clipped into abstract shapes that suggested, rather than represented, features such as hills. In the beginning, many of these gardens were designed to be viewed from an open, Japanese-style room. By the latter part of the Momoyama period some designers introduced paths so that gardens could be explored by foot. Although the idea of walking in a garden was not new, it was Momoyama innovations that gave rise to the stroll gardens of the succeeding Edo period. The garden surrounding Nijo Castle is a good example of a Warrior garden designed to be viewed from a building. Ritsurin Garden in Takamatsu is an example of a Warrior stroll garden.
Dry Landscape Gardens (Karesansui) and Stone Gardens (Sekitei)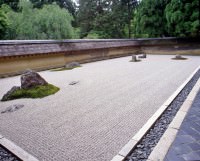 In karesansui (dry landscape) gardens, rocks and gravel, sometimes supplemented with moss and other forms of vegetation, are used to suggest water and mountains. This abstract and inventive way of expressing nature without using water is one of the most highly regarded aspects of Japanese garden design. A typical dry landscape garden is composed of white sand representing rivers and the sea, with rocks, stones and trees representing mountains and islands. The sand will often be raked into sometimes intricate patterns and sometimes simple, straight lines. The gardens strove to convey the deeper meaning of life by reducing the materials used. Because of their simplicity, these gardens were often used at Zen Buddhist temples as an aid for monks to train and meditate. Ryoan-ji and Daisenin, both in Kyoto are good examples.
Moss Gardens (Koke-niwa)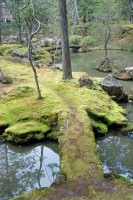 Gardens with abundant live moss can be found all over Japan. Many temples and palaces are famed for their beautiful moss gardens. The moss garden of Saiho-ji (more commonly known as Koke-dera or Moss Temple) is the best example of this quintessential garden type. Though often used at Zen temples, this garden type provides an interesting contrast to the tightly controlled dry-landscape gardens.
Compact or Residential Gardens (Tsubo-niwa)
In the Heian period, residences were built according to an architectural style called Shinden-zukuri in which a central house was surrounded by smaller buildings that were linked by wooden walkways. The small spaces produced between these houses and corridors were dubbed tsubo-niwa, or small court gardens. People later planted flowering trees in these pocket gardens and named each space with the name of the flower they planted there. Today, this name refers to small courtyard gardens found at modern Japanese residences and businesses.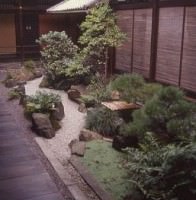 Tea Gardens (Roji)
A tea garden leading to a tea house is called a roji. The literal translation of roji is "dewy path". In the early days of the tea practice in the Muromachi period, the tea house was set outdoors and a path laid to its door. Through the use of carefully placed stepping stones, basins, lanterns and plants, the guest is represented with a series of constantly changing "small views" which encouraged one to enter a state of meditation that will carry over into the tea ceremony itself.
Because guests must pass through the tea garden to reach the tea house, the roji functions as an entryway to another world apart from one's mundane daily life; the ritualized yet serene world of tea practice. The plants, rocks and other materials used along roji should look as natural as possible. This is achieved by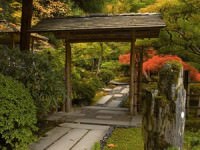 using amixture of moss, evergreen trees, shrubs, and perhaps bamboo. In keeping withthe philosophy of the tea ceremony, flowers, as well as anything else that is too beautiful, should be avoided so as not to disrupt the feeling of austere simplicity. The most important part of the roji are the stepping stones, which should never take one in a straight line.