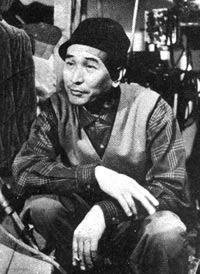 Anyone who knows me can tell you that I love movies. Of course, it is only natural that I love Japanese movies. When thinking about Japanese movies, the name of Akira Kurosawa will always be mentioned. In a career that spanned more than 50 years, Kurosawa directed 30 films. He is widely regarded as one of the most important and influential filmmakers in film history. His work has been admired by other film directors including Steven Spielberg, George Lucas, Francis Ford Coppola, Martin Scorsese, Robert Altman, Spike Lee, John Woo and Quentin Tarantino.
Akira Kurosawa was born on March 23rd, 1910 in Tokyo. His father was a retired army officer turned teacher, who came from a samurai family, and his mother's family were merchants in Osaka. He had a good, solid, classical education which was where he was first introduced to Russian literature which would eventually play such an important role in his films. After studying art at the Dushuka Academy, he was unable to make a living as a painter and illustrator despite the fact that some of his work was shown at annual exhibitions in Nikka with some of the most renowned independent artists in Japan.
In 1935, Kurosawa was hired as a first assistant director at the PCL Studios (which would later become the Toho Studios) where he worked for ten years under the guidance of Kajiro Yamamoto. Like most aspiring film directors at that time, Kurosawa began writing screenplays and continued to develop his own ideas about filmmaking through his association with Yamamoto.
In 1940, though still officially an assistant to Yamamoto, Kurosawa directed a portion of The Horses, a semi-documentary film about peasants in the Tohoku province. His first credited feature film, however, was Judo Saga (Sunshuro Sugata) in 1943, which he wrote and directed. Sunshuro Sugata was so successful, that he made a sequel two years later. Kurosawa continued to make films during and after the war, the subjects of which tended to center around contemporary social problems. But it wasn't until Rashomon in 1950, which won the Golden Lion award at the Venice Film Festival and also received an Honorary Academy Award at the 24th Academy Awards that he received the national attention he deserved. He was also hailed internationally as one of the most important contemporary film-makers and brought Japanese cinema to the attention of the western world.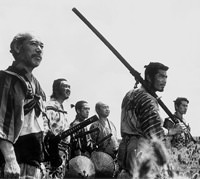 Kurosawa continued to experiment with cinematic form as well as the use of western themes in traditional Japanese settings. He assembled a company of actors, writers and technical personnel who worked together for the next ten years to create such films as The Idiot (1951), an adaptation of the Dostoyevsky novel; Ikiru (1952), the story of a petty bureaucrat who discovers he has cancer and learns to appreciate the life he was wasted; The Seven Samurai, considered to be one of the greatest action, adventure films of all times and surely Kurosawa's masterpiece; Throne of Blood (1957), an adaptation of Shakespeare's Macbeth; and Maxim Gorky's The Lower Depths (1957) set in 16th century feudal Japan. He was the only filmmaker in Japan at that time able to make any film he wanted because his films were always profitable. It was also during this time that his collaboration with actor Toshiro Mifune developed and flourished. His collaboration with Mifune, which began with 1948's Drunken Angel and ended with 1965's Red Beard, is one of the most famous director-actor collaborations in cinematic history.
In 1960, Kurosawa left Toho to form his own production company under which he made Yojimbo (1961), Sanjuro (1962) and the controversial Red Beard (1965) which attacked modern Japanese society. Red Beard was so successful, however, that Kurosawa joined with three other leading Japanese directors – Kinoshita, Ichikawa and Kobayashi – to form a company called "The Four Musketeers". Under the new company, Kurosawa made Dodeskaden (1970), his first color film. Unfortunately, it was not successful and broke up the new company.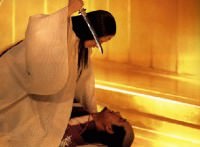 On the verge of a mental collapse and in poor physical health, Kurosawa attempted suicide in 1971. Shortly afterwards, he received an offer from the Soviet government to make any film he wanted. His spirits revived, he made Dersu Uzula in 1975 for which he won an Academy Award for Best Foreign Film. Francis Ford Coppola and George Lucas helped him obtain financing for Kagemusha in 1980, which won the Grand Prize that year at Cannes. Ran was the director's version of Shakespeare's King Lear, set in medieval Japan (and the only film of Kurosawa's career that he received a "Best Director" Academy Award nomination for). It was by far the largest project of Kurosawa's late career, and he spent a decade planning it and trying to obtain funding, which he was finally able to do with the help of the French producer Serge Silberman. The film was an international success and is generally considered Kurosawa's last masterpiece. In an interview, Kurosawa said that he considered it to be the best film he ever made. In 1989, he was awarded the Academy Award for Lifetime Achievement "for cinematic accomplishments that have inspired, delighted, enriched and entertained worldwide audiences and influenced filmmakers throughout the world."
Kurosawa made three more films during the 1990s which were more personal than his earlier works. Dreams (1990) is a series of vignettes based on his own dreams. Rhapsody in August (1991) is about memories of the Nagasaki atomic bomb and his final film, Madadayo (1993), is about a retired teacher and his former students. Kurosawa died of a stroke in Setagaya, Tokyo, at age 88.