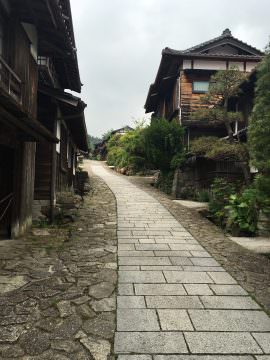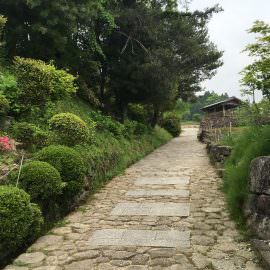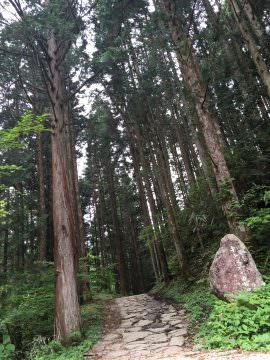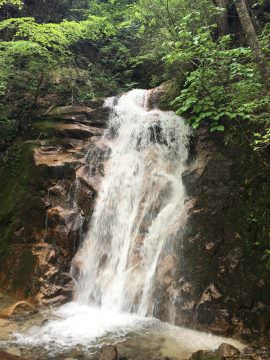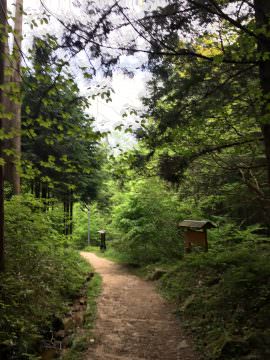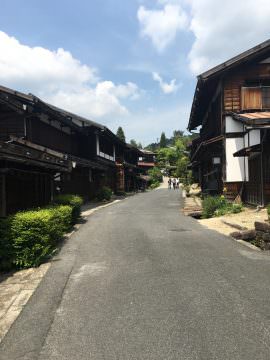 There is something magical or even slightly mythical about hiking in Japan. The history of this country is never ending and so well documented.   There are two small villages in the Japanese Alps called Magome and Tsumago. They were created to be post towns along the Nakasendo highway.  During the Edo period Feudal Lords were required to travel from Kyoto to Edo (Tokyo), so these highways were created for ease of access. The Nakasendo Trail boasts some of the most beautiful mountain landscapes I have ever seen (and I am from Colorado!)
Before hiking the trail, we traveled by train and bus to Magome. Old shops, restaurants and ryokans lined the cobblestone street before us. We were fortunate enough to stay in one of the ryokans and enjoy traditional Japanese food and hospitality. It almost feels like stepping back in time when you slip into a Yukata and walk around barefoot on tatami mats.
We spent the evening eating a traditional kaiseki style dinner and watching the sumo tournament on tv, so the next morning called for a bit of adventure on the Nakasendo trail. The trees towered over the trail, creating a canopy that engulfed the dense forest. Knowing that we were walking the same steps that many Feudal Lords and Samurai took was quite enchanting. The trail from Magome to Tsumago was  about 7 kilometers (about 5 miles), and half-way through we found a quaint wooden building. Inside we took a rest, ate Japanese candy, and warmed our tired feet by the fire. We even had the opportunity to strike up a conversation with other international travelers!
Something not to be missed on the trail is the opportunity to explore some glorious waterfalls. Taking a short detour, we followed signs into a lower area that opens up into two magnificent waterfalls. There is honestly nothing like sitting in a spot so many before have enjoyed…the feeling is indescribable.
From the waterfalls it was a short walk to finish the Nakasendo trail, leaving us in Tsumago. Tsumago was a quaint town, similar to Magome in its peace and generosity. Little shops and diners lined the streets, and you could feel such a historical presence as museums and historical buildings surround you. Walking through some of the old buildings where Samurai would eat and sleep was such an amazing experience.
We went straight to Takayama after touring Tsumago, and while relaxing in an onsen we were able to reflect the magnificence of the day. There are no words to describe the beauty of the Nakasendo trail. This part of Japan is my favorite place to explore and it is quickly becoming Corina's as well.