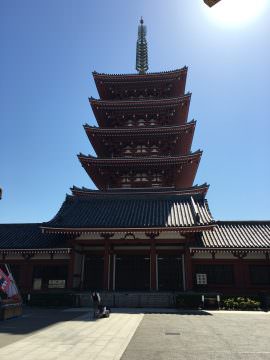 Like most independent tours we spent our first couple of days in Tokyo. The streets were filled with hundreds of well-dressed people, all eager to get to their destination. Amidst the skyscrapers and city lights of Tokyo you can still sense the respect that Japanese culture holds for quality and hospitality. Even the crowded Starbucks is sure to serve coffee and donuts wrapped nicely on a glass plate.
Charlie was fantastic as he guided us around the major sightseeing areas in Tokyo. Tsukiji Fish Market was a glorious introduction to the wonderful world of Japanese food. Handling over 2,000 tons of marine products per day, the market is filled with fast paced workers and eager customers ready to buy the fish eye or tuna to sell at their restaurant.
The Seaside Observation Deck was nothing short of enchanting. Gazing up and over the heart of Tokyo is thrilling from 40 stories up. Understanding where you are from a bird's eye view gives such a new perspective into how massive Tokyo truly is. Onward into Ginza gave us a worm's eye view of Tokyo, as buildings and stores towered over us. Ginza made us understand why Tokyo is considered one of the fashion and luxury centers of the world. Coach, Prada, Gucci, and Tiffany and Co. crowded the streets at every corner…any woman would be mesmerized.
Charlie took us to lunch at a Kushiage restaurant where we enjoyed delicious fried vegetable and meat skewers. Like every meal in Japan, miso soup and rice accompanied the meal, and let me tell you…American miso soup doesn't hold a candle to the real thing in Japan!
After taking the Sumida River Cruise, we toured Asakusa. This was our last stop with Charlie, where we experienced a Buddhist Temple and a Shinto Shrine. Surrounding the temples were local shops filled with lovely little souvenirs and keepsakes, all of which seemed to be family run. Although tourists surrounded the temples, it was a great experience to also see locals pray and bow at the shrines, showing the basic worship rituals of the religions.
We chose to spend an evening in Shinjuku, a very lively part of Tokyo. After eating a delectable meal of Katsu we enjoyed the sights and sounds of the big city. One of the wonderful parts about Shinjuku is that in the midst of neon lights and thousands of people, you can always find little hidden treasures like Omoide Yokocho (or Memory Lane) and Golden Gai…narrow alleyways with tons of tiny bars and restaurants stuffed with people. It was a contrast to the 'big city' feel, but still as lively and loud.
Tokyo is such a unique city because it is exactly like what you would expect, but at the same time it is nothing like you would expect. In the midst of the excitement of the large city, there is still incredible tradition and fun places to explore. Discovering small secrets and delicious food is the best part- you never know what you might find!