Bright and early at 6am, the temple has a prayer service.  Guests are welcome to join and participate or observe this prayer time with the monks which involves chanting certain traditional phrases in a monotone pitch.  I personally did not attend, but I could hear the prayers down the hall.
At 7am, we had breakfast, and then headed out to the huge Koyosan cemetery, which has such history and beautiful memorials.  We got to see many different shrines, gravestones and memorials, and some of significant people and events that have happened in history.  I also noticed some gravestones that had brightly colored baby bibs and caps on them.  One of the beliefs is that if your child dies before you, they are not allowed to enter paradise.  Parents of course don't want their children to suffer in hell because they can`t pass on, so they put personal belongings of their child with the gravestone, as a plea to Boddhisattva Jizo for their children to pass onto paradise.  Also, as the bright colors of their items fade, they symbolize it with their sorrow that fades over time.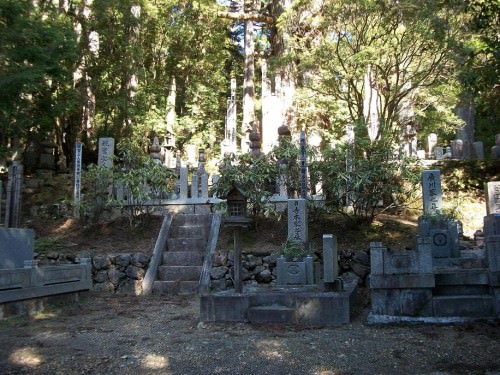 We were also able to see the monks prepare food for Kobo Dashi, which is the founder of the Shingon school, and is believed to still be alive today in a state of eternal meditation.  The monks prepare two meals for him every day.  I learned that in this particular sect of Buddhism, the Shingon believe you already are a Buddha (meaning you do not have to achieve the status), and you spend your life learning how to live as a Buddha.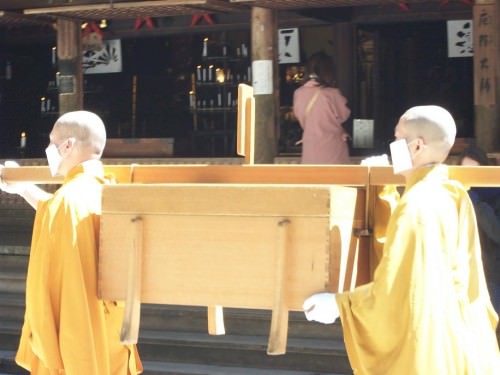 That afternoon, we had lunch near our temple, and looked around at some of the souvenir and sweets shops.  Then we went on our way to Osaka.
When we arrived in Osaka, we checked into Hotel Ichiei, which was located right across the street from the subway.  It was a more higher-end mainstream hotel, but still had the traditional ryokan rooms.  It was very nice!  Then we had the afternoon free to venture into the city.  We were basically just a block away from very popular shopping and delicious food.  Osaka is known for its great food, and one of its mottos is to eat till you drop (my husband and I liked that!).
My first impression when  I walked further into the bustling shopping plaza (covered streets) was WOW!  Everything is large, up in lights, and busy!  It was really fun and there was an upbeat energy thriving through the streets.  We tried a few different restaurants, snacking on different things.  I was hoping for some pizza, and we finally found a place that had a picture of pizza displayed in their menu.  They called it garlic pizza, and it was basically a thin crust, almost like a tortilla, with a very garlic tomato sauce and some cheese.  There were also large slices of brie on it.  It was good, but still not like American style pizza.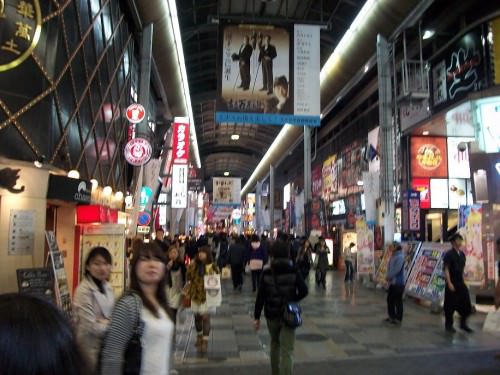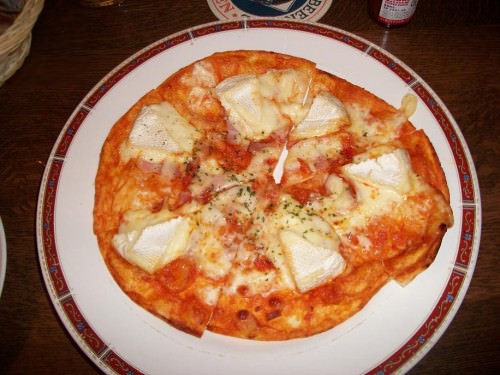 Funny story:  you figure the restaurants and food stands that have long lines would be a dead giveaway that they are delicious.  There was a food stand that was selling fresh cheesecakes that looked amazing.  We stood in line for about 20 minutes before we reached the front.  It was almost our turn, and we were given a free sample before.  We tried it, and it tasted strongly like eggs, and weren't too fond of it, so we actually got out of line and had some other cheesecake closer to our hotel!  We felt kind of silly, but had a good laugh about it.
Also, you will notice the different styles of clothing  and hair when you visit there.  Some people are very eccentric!  Very funky clothes, different color hair, some couples with the same haircut, lots of males with long hair, etc.  It is a great place for people-watching.
After we returned to our hotel, we enjoyed watching some funny game shows on TV and rested for the remainder of the evening.