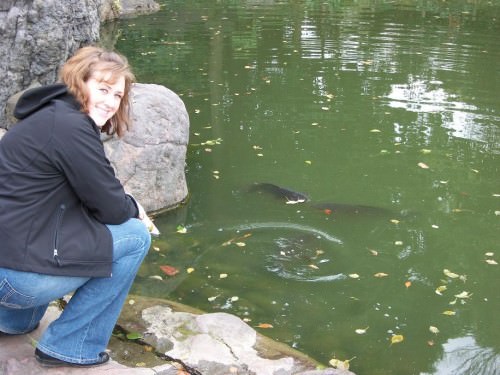 Well today on our scheduled itinerary, we were supposed to go to Kamakura, but there was a huge storm coming in, and our guide, Charlie, advised us that the trains often close down for these types of storms and he did not want us to get stuck (another group a while back had this happen to them and it took them over 5 hours to get back to the ryokan).  So we changed the itinerary to see a couple of museums and the Kiyosumi Gardens. 
We started at the Kiyosumi Gardens.  It was so beautiful and peaceful!  We enjoyed walking around and enjoying the scenery.  There were tons of HUGE carp and fish in the pond.  Marshall and I were able to purchase some fish food at a booth in the gardens, and let me tell you, THAT was entertaining!  They went wild for the food, and we were able to even hand-feed some of the fish!  We even pet a few of them, haha.  We also fed the ducks there too.  There was a wedding couple getting their pictures taken at the gardens as well, so that was fun to see them all dressed up.  I would certainly suggest going to this garden, it was very lovely.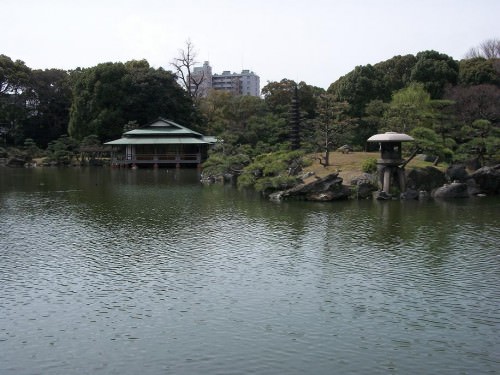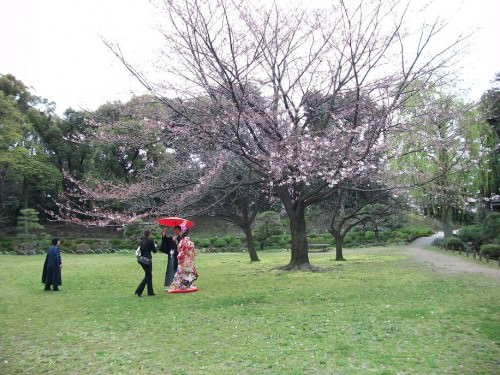 After this, we went to the Fukagawa Edo Museum.  I have to warn you up front, I am not big on museums, but this one was really great.  It was a huge live setting of what housing and life was like in the Edo period (1840`s).  You could go into the model houses, touch and pick up anything, sit in their living rooms, see what their kitchens were like, etc.  It was really neat to see the different things they used to have.  In some of the homes, they had their old style rain coats, which consisted of a shawl made of straw.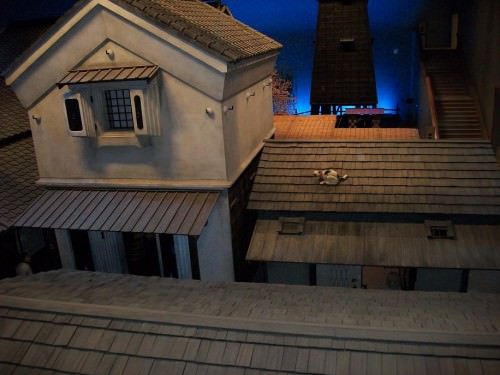 After the museum, we went to lunch.  We had lunch at a sumo restaurant. The decorations were grand, and in the middle of the restaurant they had a live size sumo stage (see my husband and Brian on the floor).  The food was really delicious and very different. They brought a hot pot with a burner in it, and in the pot was some raw chicken, veggies and broth.  We cooked the food in there, and then at the end of the pot, we added extra rice and a raw egg into the leftover broth, and cooked it a little more to make a porridge.  Yum!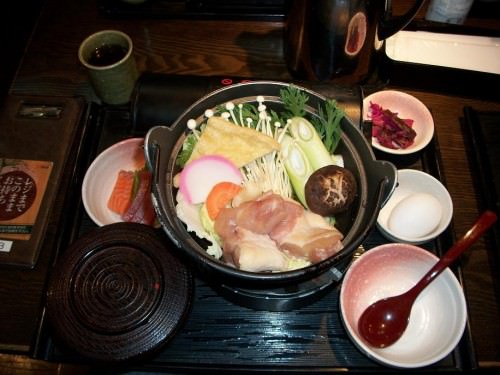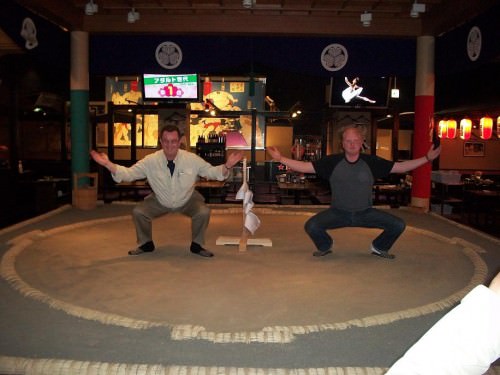 Then we traveled on to the Edo-Tokyo Museum.  This had some neat stuff from the older times (like their first bicycles, diagrams of the cities, etc.).  By the time we left the museum, we heard that the train going to Kamakura had stopped, so it was a good thing we didn't go in the first place!  It was only drizzling where we were and were surprised at the reaction of the people, but when we got back to the ryokan and turned on the news, we saw pictures of Northern Japan and it was hit pretty hard with lots of rain and strong wind.
We all went to dinner together that evening, and I enjoyed a cup of cold sake (it was so good, and I am used to warm sake so I was pleasantly surprised) and some sushi.  Sushi here is way better than land-locked Colorado.   After dinner, Marshall, Paola, and I went in search of my fancy ice-cream and some karaoke!  We found both of then at the same place, and had fun singing cheesy songs and eating some yummy dessert.  That wrapped up our night.