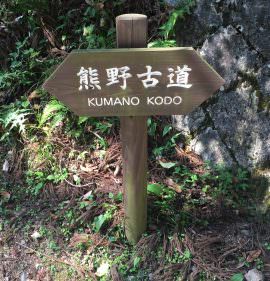 After a few train rides and a long flight, we are back in Colorado. Corina and I spent our Jet lagged nights (3am texts when sleep just won't come) talking about our time in Japan and how wonderful it was. We are still full from all of the good food, and are beyond grateful  for the amazing experiences and the wonderful Samurai Tours staff in Japan. They really make traveling in Japan easier and more fun.
We debated a lot, but finally decided on a favorite location in Japan, trekking the Kumano Kodo.
The Kumano Kodo is a series of pilgrimages that stretches across the Kii Hanto peninsula, just south of Kyoto. It is a truly magical experience as you walk in the footsteps of the Samurai, Feudal Lords, and peasants that used these ancient trails so long ago.
We only hiked a very small part of the Kumano Kodo, but what an experience it was! Towards the end of our trip, we traveled from Kyoto to the tiny town of Yunomine Onsen. Calling it a tiny town is an understatement, as we could walk from one end to the other in about five minutes. Located in the middle of the town is a little onsen that has been used by those who walk the Kumano Kodo for over 1,000 years, and is still used today. Interestingly enough, some of the mineral water that is used for the onsens is so hot that people actually boil eggs and vegetables in it with the hope that the minerals will keep them healthy.
After a delicious dinner and some relaxation in the onsens we were ready to venture onto the Kumano Kodo trail the next morning. We hiked from Hosshinmon-oji to Hongu Taisha–about 7 miles. Now, I live in Colorado and am totally spoiled by beautiful mountainous scenery, but there are no words to describe the unique beauty of the Kumano Kodo. Not only did we hike on trails through 800 year old trees that covered the skies like a canopy, but we also walked through small villages  where we passed rice fields and green tea bushes. We passed tons of oji shrines and a few torii gates. It was a magnificent introduction to the Kumano Kodo.
Our end goal of that day was to reach Hongu Taisha where the largest torii gate in history was built. The history and stories surrounding this area were inspiring, and the small museum was quite enlightening. After a long day of hiking and "oo-ing and awe-ing" at Japan's majesty, we were ready for some relaxation. We stayed overnight in Kii-Katsuura in what can only be described as the most incredible hotel I've ever seen. Hotel Urashima is offered on our tours as an updated luxury option, but it is well worth the extra money. It is located on an island just across the bay from the Kii Katsuura mainland, and you must take a ferry to get to it. The top of the hotel has a magnificent view of the ocean, and the onsens are located inside of caves where you can see the ocean and hear the waves crashing up on the rocks. It is a once-in-a-lifetime experience, not to mention the luxurious buffet dinner with fresh tuna that is cut up right in front of you.
The next morning we took a bus to Daimonzaka where we hiked up about 2 miles of stairs to Nachi Taisha. Let me tell you, it was well worth the hike. Nachi Taisha is one of the Three Grand Shrines of Kumano (along with the Hongu Taisha and Hayatama Taisha) known for the 436 foot waterfall that was worshipped as a deity as far back as year 317. We hiked down to the base of the waterfall where we were able to experience the true majesty and power of it. As the fog starting coming in it quickly became one of the most beautiful sights I had ever seen.
Although we only experienced two days of the Kumano Kodo Pilgrimage, we both felt like we gained incredible knowledge and insight into the significance of nature for the Japanese. I guarantee that anyone who sees even part of what we did will surely be brought to their knees by the beauty and majesty of the Kumano Kodo.
We offer a Kumano Kodo Highlights tour, as well as a Kumano Kodo trekking tour. We can also make these tours into Independent versions of these tours, for the adventurous traveler.