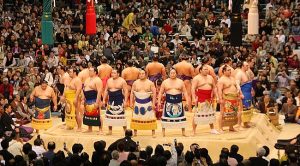 Sumo wrestling is Japan's national sport. It originated centuries ago as entertainment for the religious deities of the Shinto religion. Many of the original rituals of the performances are still in practice at Sumo matches today. In accordance with tradition, only men can wrestle professionally.
The rules of the matches are very straightforward; the first contestant to get pushed out of the ring or touches the ground with any part of his body, except the soles of his feet, loses. It is very common to be matched with a competitor who is much larger or smaller, as there are no weight or height categories among contestants. This is why many sumo wrestlers are very heavy, using their weight as an advantage.
The best way to see sumo wrestlers is at a tournament. There are six tournaments held each year; three in Tokyo (January, May, and September) and one in Osaka (March), Nagoya (July) and Fukuoka (November). Each tournament lasts for 15 days and each wrestler performs in one match per day. Lower-ranking wrestlers will perform in fewer matches during the tournaments.
In addition to the tournaments, there are often exhibition tournaments, as well as wrestler retirement ceremonies that are open to the public. But perhaps the most exciting way to see the wrestlers up close is with a visit to the sumo stable to witness a practice session. These are where the wrestlers live and train together, and everything they do is dictated by the stable master. There are about 40 stables in Japan, but only a few of them accept visits from tourists. A visitor must be accompanied by someone who is fluent in Japanese and knows sumo customs very well. They must sit silently watching and not disturb the practice.
Visitors to Japan can visit the Sumo Museum in Tokyo, which is housed inside the Kokugikan sumo stadium. In addition, they can visit Ekoin Temple, where sumo tournaments were held before the first stadium was built in 1909 or have a meal at a Chanko Nabe restaurant.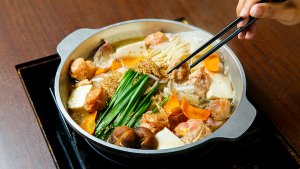 Chanko Nabe is the main food of sumo wrestlers. It is a hot pot dish that comes in many varieties and contains vegetables, seafood, and meat.
When you travel on one of our tours, we can add on a visit to the sumo tournament as an optional tour, if you are traveling with us during the time of year that they are held. Click here to see our tour calendar!