Nothing beats Tokyo for bright lights and exciting nightlife. But when it comes to natural beauty in Japan, it's hard to top Tohoku.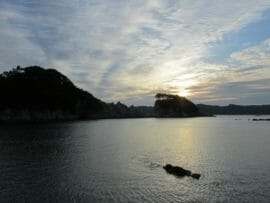 Located in the north of Japan's main island of Honshu, the Tohoku region is made up of six prefectures: Aomori, Akita, Fukushima, Iwate, Miyagi and Yamagata. It is well known for its countryside, mountains, lakes, hot springs, high quality rice and rough winters.
Extending from Aomori Prefecture in the north, through Iwate and Miyagi Prefectures to the south, the Sanriku Coast (Sanriku Kaigan, 三陸海岸) is a rugged and beautiful stretch of coastline with countless bays, cliffs and coves that stretches for over 200 kilometers along the Pacific Coast of the Tohoku Region.
Some highlights of the Sanriku Coast include:
Kitayamazaki (北山崎) is one of the most impressive landscapes of the Sanriku Coast, where 200-meter cliffs stretch across 8 km of coastline. It is part of the Sanriku Recovery National Park.
You can view the Kitayamazaki Coast from the Kitayamazaki Observatory, a park at the northern end of the coastline that offers three observation decks at various heights where you can take in the picturesque cliffs. While the view of the coastline below the observatory is excellent, to get the full effect of the coastline it's recommended you take a sightseeing boat. Boat cruises depart from a small port near Shimanokoshi Station. Four cruises are operated daily from late April to early November (additional departures are operated on busy days). They last about 50 minutes and cost 1460 yen.
Jodogohama Beach is the most popular site along the Sanriku Coast. Jodogohama means "Pure Land," which is a Buddhist concept of paradise and is the same name as a sect of Buddhism. The beach is located in Sanriku Fukko National Park, and is one of the 100 best beaches in Japan as designated by the Japanese government. Clear waters and rugged rock formations along the coast make the dramatic view popular with both Japanese and foreign visitors.
The Sanriku Coast was hit hard by the tsunami in 2001. As you travel, you will encounter numerous signs marking where the tsunami hit. While many businesses and tourist sites were quickly up and running, reconstruction is still ongoing in many areas. However, tourism is one of the most important ways to help Tohoku recover from the disaster. It's a great chance to support local business directly and to support the future of Tohoku.
The Sanriku Coast is part of our TRD tour.