To give you a little background, my husband and I already were in Taiwan for a week before we went to Japan (we were visiting my sister for her wedding).  This morning when we left for our flight, we arrived to the airport to find our flight was 5 hours delayed. As  we were flying into  Narita Airport,   it was so beautiful just to look our our plane window and see the shore as we were flying in.  We were able to go through customs just fine, and our Samurai Tours guide was there to meet us on the other side of the sliding doors exit, past baggage claim.  We met up with another c0uple on our tour, and then followed the guide to where he got us our train tickets.  Once we boarded the train, it was a smooth, fast 40 minute ride into the city.  When we got off the train, we were met by another guide, who hailed us a taxi that took us near our ryokan.  We were dropped off by the famous Karinarimon Gate.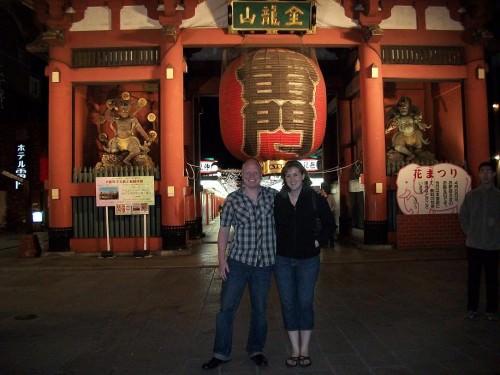 We walked a few blocks to our ryokan, got our keys and checked in.  The rooms are small but cozy.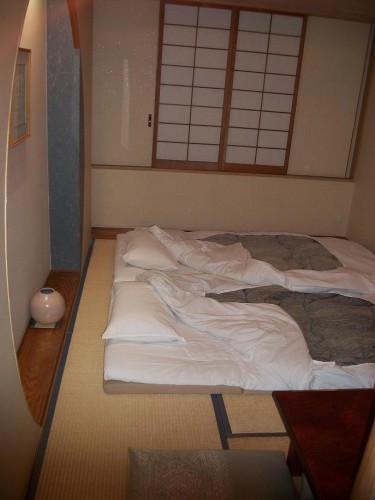 After we got settled, we decided to venture out on our own for a bit in the hunt for dinner!  We got a map from the front desk, and wandered around for an hour.   The streets seemed nice and clean, and there were some streets and alleys were full of little shops.  The areas were outdoors, but  it was like they had a roof over the streets .  Marshall and I decided we wanted something a little more `American` since we figure we will have our fill of Japanese food over the next couple weeks.  We finally settled on this cute little restaurant that advertised pictures of pizza outside (many of the restaurants had pictures of food outside to let you know what they serve).  However, this was NOT your normal pizza, haha.  I ended up ordering a pizza with spinache, bacon, and an egg plopped right down in the middle of it (yolk still runny).  It tasted kind of like a breakfast sandwich, only with marinara sauce.  It was good, but I probably would not try to remake it at home.
Now we are happy, full, and tired, and ready to get up early and meet the rest of our group!