What attracted me to this tour was that it specialized in two areas of Japan, each totally different from the other. Unlike other tours that cover a large expanse and give you a taste of everything, this type of tour allows you to saturate the area more and get to enjoy many more local aspects of Japanese life, culture, food, and local traditions.  The pace of the tour is great and you always stay in one place for more than one night so you do not feel rushed. In Hokkaido, you are on the northernmost island, home of the Ainu indigenous people of Japan. Mountainous terrain with beautiful shore scapes and fishing villages as you travel by train through smaller cities and villages in the most beautiful forested mountains.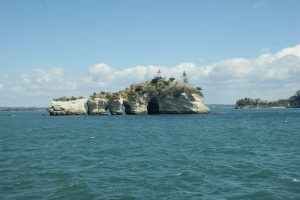 At Noboribetsu near Sapporo you can enjoy the decant huge hotel with many natural traditional onsens (hot springs). There are over 13 for men and the same for women, most indoors but with some outdoors, which at night, makes for a refreshing experience as the steam rises around you as you watch the sunset in the mountains. And while other onsens around Japan are at Ryokan (traditional Japanese Inns), you can walk the town and hillside to see the natural hot springs, geysers and steam vents. In Hakodate, you must visit the market and fish for a squid in the pool, which they cut up and serve you s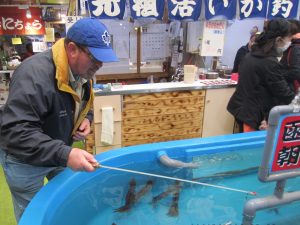 ashimi style with a tempura sauce and wasabi paste! After all, visiting a foreign country is about stepping outside your comfort zone and experiencing their lives and enjoying their foods. Yes, you will not like everything but then again how many of us liked spinach the first time our parents made us eat a new food as kids!
The next big surprise is taking the Shinkansen speed train (up to 248 kph) from Hokkaido under the sea to pop up in northern Honshu in the region called Tohoku (meaning northeast). Here we visited the Nebuta Warasse Museum in Aomori, famous for all the huge colourful floats used every year in the 300-year-old festival. There was even a performance by "Haneto" dancers demonstrating the unique Nebuta Matsuri dance accompanied by live music played on taiko drums and flutes. We even got to play the big mounted taiko drums which produce a huge sound that fills your body to the bones! Adults and kids alike have a great time here. On a more historical note, we then visited the Sannai Maruyama Archaeological Site, the largest and one of the most complete and best-preserved Jomon Period (13000 – 300 BC) villages in Japan. Unearthed by accident while surveying land to build a community baseball field, the former Sannai Maruyama Village once included over 700 structures and dwellings including longhouses, storage structures, roads, and trash and burial pits. This was really special to me so that I could begin to learn about human habitation in Japan at the earliest period. And to think that if the Japanese love for baseball didn't exist, this site would still remain a hidden mystery!
And the surprises in topography, history, foods, and traditions continued. Then it was a boat trip through many islands covered in pine trees to get to the island of Matsushima, a magical place considered one of the three scenic wonders of Japan, with Zuiganji Temple (Tendai Sect of Buddhism) full of national treasures, art and painted panels, including gorgeous gardens and huge towering trees. The famous Haiku poet Basho travelled here writing many poems that were inspired by this beautiful part of Japan. Having lunch overlooking Matsushima Bay and encountering a couple of elderly Japanese ladies with whom we struck up a conversation and shared plates of food was a genuine joy! The sun glittered across the waters as the boats and ferries came and went on this warm and sunny day!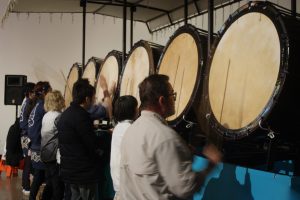 We arrived in Sendai, out of the forests and mountains, back to a large modern city of over 1 million people at the centre of the Tohoku region where I tried another local food specialty, gyutan (beef tongue, usually grilled). It was great! And just when my camera broke I was able to get a new one at a huge department store where the entire 7th floor was electronics. Our guide (Masako Takahashi) graciously assisted me in translating to ensure that I got what I needed. This was but one example of how Samurai Tours guides are absolutely the best! They also have alternative tours of equal quality when a replacement is necessary. This happened to us and we went to Funaoka to walk the sakura (cherry blossom) tree-lined walkway along the river as the sakura were in full bloom that week! This is one of Japan's best places to see cherry blossoms that cover the entire shoreline for miles and to view several bridges that cross the river set against mountains in the distance, absolutely breathtaking!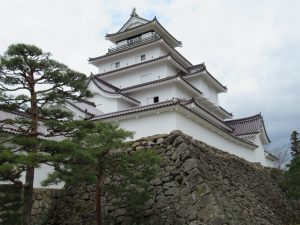 Then it was on again using our JR rail passes to the Samurai city of Aizu Wakamatsu and Ouchijuku with the thatched roof houses and visiting nearby Tsuruga Castle, amazed us along with the history of the Samurai battles against the Meiji Japanese government which we know from the movie 'The Last Samurai'. A total surprise was encountering the famous wooden Sazedo built-in 1796, a double helix staircase reminiscent of the one Leonardo designed and constructed in Chateau Chambord in France. We climbed the interior ramps up the three stories and came down emerging where we had entered!
Our last full day was in Nikko in the mountains north of Tokyo. It's the site of Toshogu, the famed Shinto shrine established in 1617 as a lavish memorial for Tokugawa Ieyasu, founding ruler of the Tokugawa shogunate, or Edo Period. The grounds are expansive and beautiful set in a cedar grove along with the tomb itself in the Shrine. Then off to Tokyo by Shinkansen again and our Sayonara special farewell dinner.
Samurai Tours has the best 'recipe' of all the tour companies in Japan – using JR rail passes, having the best-certified guides that know their cities because they live there and escort the small groups that do not exceed 16 people. If you are mobile, the pace is good for all ages and there is always time to stop, ask questions or take little side tours as the guides are fully conversant in English. As far as I am concerned, this is the only way to truly see and experience Japan. Large buses filled with 40 to 60 tourists and staying at big Western hotels in the big cities make it impossible to get into the narrow streets and areas of true interest! I'm signing up for another tour next year, and even the Single Supplement price is reasonable if you are a solo traveller!
Written By: Brian Preston
Photos By: Brian Preston