There were thousands of Ukiyo-e artists, however, three stand out. They are Utamaro, Hokusai and Hiroshige.
Utamaro (1750-1806)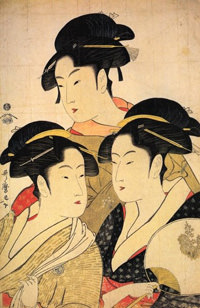 Utamaro Kitagawa is highly appreciated as the dominating Ukiyo-e artist of the late eighteenth century. Yet little is known about his life. Neither the precise date of Utamaro's birth, his birthplace, nor any substantial information about his parents is known.
The original name of Utamaro was Ichitaro Kitagawa. It is generally agreed that he started his career as a pupil of the painter Toriyama Sekien. His early known works were actor portraits and theater programs, published under the name of Utagawa Toyoaki. In 1781 or 1782 he changed his name to Utamaro Kitagawa. Around 1783 Utamaro started a successful cooperation with the publisher Tsutaya Juzaburo. Together they published several book illustrations. The early works of Utamaro were influenced by Torii Kiyonaga and Harunobu. Beginning in 1791 Utamaro concentrated his work on single portraits of women. He took his models from the street or from the Yoshiwara pleasure district. The stories of his love affairs with the ladies of the Yoshiwara are said to be abundant.
It is said that Utamaro captured the beauty of women like no other Ukiyo-e artist. Utamaro's women indeed express a sensitivity that no artist before him, or since, was able to achieve. It is thought that Utamaro had experimented with new techniques to display flesh tones which allowed him to portray women in a softer manner.
Utamaro did not portray women in their natural features. His women are idealized with extremely tall and slender bodies, and long necks and small shoulders. The heads are twice as tall as they are broad, the noses are extremely long and the eyes and mouths are depicted as tiny slits. Many say that his women look more like the models in today's fashion magazines, which may explain the continued popularity of his works today.
In 1804 Utamaro got into serious trouble with the authorities for violation of censorship laws. He published a print with a historic scene showing the ruler Toyotomi Hideyoshi with his wife and five concubines. This was considered as an offense against the ruling Tokugawa Shogun. The artist was briefly imprisoned, and some sources say was sentenced to wearing handcuffs for 50 days. According to other sources, he was forced to wear an iron collar. Whatever the detailed circumstances may have been, this humiliation had a devastating impact on him. He fell into a deep depression and died two years later at the age of 53 in Edo.
Hokusai – (1760-1849)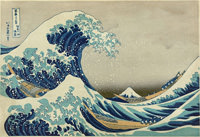 Hokusai's full name was Katsushika Hokusai, and was born in Edo. Hokusai entered the studio of Katsukawa Shunsho in 1775 as an apprentice. Between 1796 and 1802 he produced a vast number of book illustrations and color prints (perhaps as many as 30,000) that drew their inspiration from the traditions, legends, and lives of the Japanese people.
Hokusai's most typical wood-block prints, silkscreens, and landscape paintings were made between 1830 and 1840. The free curved lines characteristic of his style gradually developed into a series of prints that imparted the utmost freedom and grace to his work, as in Raiden, the Spirit of Thunder.
In his late works Hokusai used large, broken strokes and a method of coloring that imparted a more somber mood to his work, as in his massive Group of Workmen Building a Boat. Among his best-known works are the 13-volume sketchbook Hokusai Manga (begun 1814) and the famous series of block prints known as the Thirty-Six Views of Mount Fuji (circa 1826-33). His print, "The Wave", from the latter series is perhaps the most instantly recognizable wood-block print ever produced.
Hokusai is generally more appreciated in the West than in Japan. His prints, as well as those by other Japanese printmakers, were imported to Paris in the mid-19th century. They were enthusiastically collected, especially by such impressionist artists as Monet, Degas, and Toulouse-Lautrec, whose work was profoundly influenced by them.
Hiroshige – (1797-1858)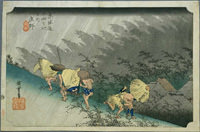 Hiroshige was known especially for his landscape prints. The last great figure of the Ukiyo-e, he transmuted everyday landscapes into intimate, lyrical scenes that made him even more successful than his contemporary, Hokusai.
Hiroshige Ando was born in Edo, and first became a fire warden like his father. The prints by Hokusai influenced him to become an artist. His career falls roughly into three periods. From 1811 to about 1830 he created prints of traditional subjects such as young women and actors.
During the next 15 years he won fame as a landscape artist, reaching a peak of success and achievement in 1833 when his masterpiece, the print series Fifty-three Stations of the Tokaido (scenes on the highway connecting Edo and Kyoto), was published. He maintained this high level of craftsmanship in other travel series, including Celebrated Places in Japan and Sixty-nine Stations on the Kiso Highway.
The work he did during the third period, the last years of his life, is sometimes of lesser quality, as he appears to have hurriedly met the demands of popularity. He died of cholera on October 12, 1858 in Edo.