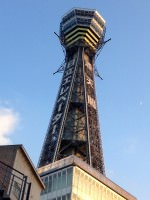 Tsutenkaku is a symbol of Osaka.It means 'tower reaching heaven'. The first tower, built in 1912, lived up to its name and was the highest in the East at that time. The original tower had an eccentric design that combined influences from the Arc de Triomphe and the Eiffel Tower in Paris. Unfortunately, it was dismantled in 1943 to supply iron for the war. The present tower is the second one, constructed in 1956 by a well-known architect Naito Tachu, who is called the 'father of Japanese high-rise towers', and is 103 meters high.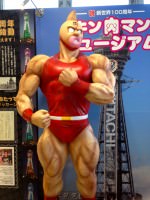 You will find a statue of Kinniku-man, 'Ultimate Muscle Man' at the entrance of the tower. Kinniku-man was a manga created by two Osaka locals who used to live near the tower, so it was made a mascot of the tower.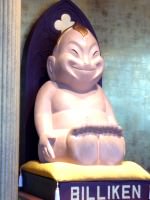 You can go up to the observation deck and see the view of Osaka, Nara and Kobe. The statue of Billiken is enshrined on the observation platform. Billiken is a deity of good luck and a popular figure at Tsutenkaku. The prototype of Billiken is said to have appeared in a dream to an American female artist in 1908. She portrayed the image and this mascot gained worldwide popularity, finally reaching all the way to Osaka where people still feel an attachment to him. There is something very charming about him with his smile, his upturned eyes and his pointed head. It's believed that if you rub the big soles of his feet, your wish will come true. The Billiken statue at Tsutenkaku is covered with gold leaf to represent Osaka people's predisposition for showy color.
The neighborhood around Tsutenkaku is called Shinsekai or New World. The Shinsekai area is know for its deep-fried dish called kushikatsu (also known as kushiage), which consists of fried pieces of pork or vegetables. The sauce is important and each kushikatsu shops boasts its own recipe.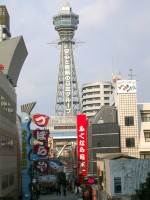 Jyanjayn Yokocho or Jyanjayn Street has many kushikatsu restaurants and Japanese chess salons. Shogi (Japanese chess) is still a very popular indoor game at Shinsekai. Many men can be found playing shogi at a shogi salons with a serious face.
You can find Osaka people's friendly and happy-go-lucky character at Tsutenkaku in the Shinsekai Area. Kushikatsu is tasty and it's fun to go up the tower. The tower may not be the tallest in Japan, but you will feel the hospitality of the local people.