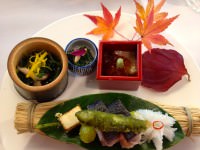 Tokyo retained its title as the Michelin guide's world gourmet capital with the latest version of the Michelin guides published on Nov. 28, although the number of three-star restaurants fell slightly. This is the sixth consecutive year the capital of food-obsessed Japan has been awarded top honors by the publishers of a guidebook regarded by many as a fine-dining resource.
Tokyo was also lauded for having the most restaurants bearing three-stars–the Michelin guide's top honor–even though the number slipped to 14 from 16 last year. Although the number is lower this year, this is still more than any other city in the world.
"Japanese gourmet cooking is even more creative, inspired and inventive than in the past," said Michelin Ellis, international director of the Michelin guides. "The quality and skills displayed by chefs in the Kanto region (around Tokyo) are higher every year and confirm Japan's ranking among the world's leading countries in terms of fine dining," he said in a statement.
The awards are highly respected in Japan, a nation with a long tradition of food appreciation. The 2013 edition of the Michelin guide lists restaurants in Tokyo, neighboring Yokohama city and the coastal Shonan area. There is also a separate guidebook for western Japan, including the cities of Kyoto, Osaka, Kobe and Nara. All but two of the top-rated restaurants in Tokyo serve Japanese cuisine and include an outlet that specializes in fugu, the pufferfish that can be lethal if improperly prepared.
This year, a total of 242 Tokyo restaurants were awarded stars, ranging from fine-dining European and Japanese establishments to eateries serving more humble treats such as broiled eel, soba buckwheat noodles and "kushiage"–deep fried meat and vegetables on skewers.
In the guide for the western Kansai region, which was also published on November 28, 12 restaurants garnered three-star ratings, down by three from last year.
The first Michelin restaurant guide, aimed at drivers in the early days of motoring, was published by the tire company in 1900. The star rating system was introduced in the 1920s.