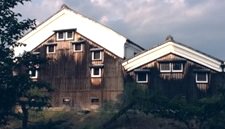 Sake making began about two thousand years ago when rice planting was introduced to Japan. Fushimi is one of the biggest sake producing areas in Japan. When Toyotomi Hideyoshi, the lord of Osaka Castle, built Fushimi Casle in the late sixteenth century, the sake industry in the surrounding city of Fushimi flourished. Many sake breweries including Gekkeikan started brewing sake here during the Edo Period. Today there are about 20 sake breweries in Fushimi. When you walk around Fushimi the fragrant smell of sake floats on the wind.
I went to Kitagawa Honke, a sake brewery in Fushimi which began brewing sake about 350 years ago. They showed us their brewery and had us experience sake tasting.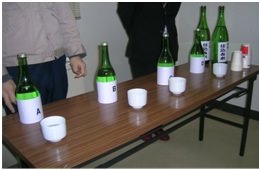 Sake tasting: Pour sake into a white cup with three blue circles at the bottom, smell sake first, hold one mouthful of sake in your tongue and mouth. We played a sake taste guessing game. We drank from four cups of sake with labels on them and tried to remember the taste. Later we drank four cups of sake without labels and made a guess which sake was the same. We were told that your favorite taste: sour, mild or dry – would help you decide what kind of sake you liked to drink best.