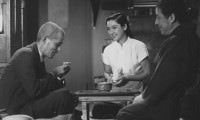 The 1953 film "Tokyo Story" (東京物語 or Tokyo monogatari) by Yasujiro Ozu was selected as "the greatest film ever made" in a poll of movie directors conducted once a decade by the British Film Institute. The organization's monthly publication, Sight and Sound, reported that Ozu's masterpiece was the top choice of 358 film directors, including Woody Allen, Martin Scorsese, Francis Ford Coppola and Quentin Tarantino. 
Yasujiro Ozu (1903-1963), born in Tokyo, began his film career in 1927 with silent films. During his 35 year career in the film industry, he made 53 films, with 25 films coming in the first 5 years. Marriage and family, especially the relationships between the generations, are the major themes of his work. His other outstanding works include Late Spring (1949), Early Summer (1951) and Floating Weeds (1959). While relatively unknown internationally when compared to his peer, Akira Kurosawa, in Japan his work is more highly-respected. According to Japanese critics, Kurosawa's movies were more western, but Ozu's work was truly Japanese.
The film revolves around a simple tale, and reprises one of Ozu's favorite themes – that of generational conflict – in a way that is quintessential Japanese and yet at the same time universal in its appeal. An elderly couple (the father is played by Ozu regular Chishu Ryu) leave their small coastal village in southern Japan to visit their married children and grandchildren in post-war Tokyo. Their eldest son, a doctor running a clinic in a working-class part of Tokyo, is too busy to show them around town, and their eldest daughter is occupied with her beauty salons. Only their widowed daughter-in-law (played by another Ozu regular Setsuko Hara), is willing to take time off work to show the couple the sights of Tokyo. The older children arrange for their parents to visit Atami Onsen, but the unimpressed couple soon returns to Tokyo. The mother stays with her daughter-in-law while the father goes out drinking with some of his buddies, while complaining about their sense of disappointment with their children. The mother suddenly falls ill, so the couple return to their home. The mother unexpectedly passes away shortly afterwards, and the children, grief-stricken, hasten to return to their home town. The busier older children return to their hectic life in Tokyo, while the daughter-in-law and youngest daughter remain behind to care for the father.