It's easy to get lost in the towering skyscrapers and bright lights when walking around the Shinjuku district of Tokyo, but if you look closely enough you will find a cramped alleyway called memory lane (known as piss alley to the locals). This local hotspot started out as an illegal drinking quarter after World War 2 and quickly became one of the most popular and affordable places to eat and drink.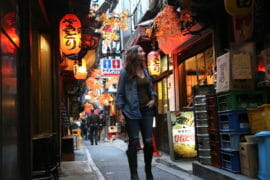 Located near the west exit of Shinjuku Station, entering the alleyway is almost like stepping back in time. Japanese lanterns light the tight alley as all different kinds of aromas fill the space. Each restaurant and bar could only be described as tiny, most having only about 6 seats. As you walk down the alley, you will see shopkeepers working over grills or caldrons, carefully preparing their shop's specialty. The food here ranges from Yakitori (grilled skewers) to Nikomi (thick Japanese stew)  and one particular restaurant famous for it's odd offerings. While food is the highlight of Piss Alley, the drinks available are the perfect pairing. The small bars are the perfect place to meet other foreigners or Japanese locals for a truly Japanese experience.
We would recommend taking the evening to tour Piss Alley, as it is easy to take your time making multiple stops at different eateries. You will likely not find an English menu, but with that comes an adventurous evening, eating things you may love before ever learning what they are.