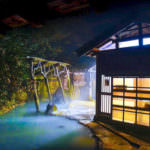 Nyuto Onsen is a collection of seven popular and remote hot spring inns, located in the Towada Hachimatai National Park in north-central Tohoku. The name Nyuto Onsen means "nipple hot spring" and comes from the suggestive shape of nearby Mount Nyuto. With a history of over 300 years, many of the springs were visited by feudal lords during the Edo Period seeking hot-spring cures. Located deep in the mountains, and surrounded by dense beech forests, you feel far removed from the rest of the world.

The inns range from modern to traditional and rustic. And because each inn has its own water source, the water is different at each inn. Each inn has indoor and outdoor baths, but it should be noted that the main baths at most of the inns are mixed gender. But they also have separate baths for men and women.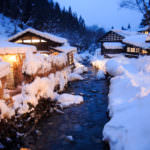 Of course, you will be treated to the local food specialties at each inn. Some of the dishes served include iwana (fresh-water char), yama-no-imo nabe (grated Yam cooked in a hot pot), sansai (wild mountain vegetables) and kiritanpo nabe (grilled rice tubes on a stick in a hot pot with vegetables).
If you stay more than one night, there are many options for something to do during the day. You can purchase a Yumeguricho pass that allows you to bathe in all seven hot springs. The pass is only 1800 Yen (about $16 USD). You can use the bus that circulates between all of the inns, or there is a nature trail that connects to all seven inns allowing you to hike to each inn. The trail to the top of Mount Nyuto starts from Kuroyu (one of the seven inns). Or, you can take the bus to nearby Lake Tazawa. Here, there are bike rental shops. It will take one to one and a half hours to ride around the lake. Or, you can climb the nearby Mt Akita Komagatake, an active volcano.
Access: The best way to get there is by rental car. Or, you can take the Akita Shinkansen to Tazawako station, and then take the bus from there. There are buses every hour, and it will take about 30 to 45 minutes depending on which inn you are going to.