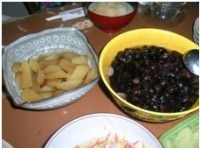 Osechi Ryori, (New Year's dishes) are specially prepared to be eaten during the first three days of January. They are cooked and  preserved for three days so that housewives don't have to cook during that period. The yellow in the grey dish is herring roe representing fertility. Bean in Japanese is 'mame' which has the same sound of 'working hard'. So the black beans in the yellow dish reflect our wish to stay healthy and to work hard. Each of the dishes has some auspicious meaning which reflects people's wishes such as longevity, prosperity and fertility. 
Many of us don't cook these dishes but just buy some of them at grocery stores or department stores. They may cost more than 20,000 yen ($250) if they are a purchased set in four-tiered boxes.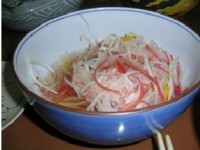 Thinly sliced radish, carrots and citrus are salted and put into vinegar. This dish adds bright color to new year dishes.
"Zoni" or rice cakes boiled with radish, taro and carrots with white miso paste are eaten on the morning of New Year's Day. We start a new year greeting 'Akemashite Omedetou' at home and then eat 'zoni'. The white miso paste is costly but it tastes very good.
As grocery stores are closed during the first four days of January, we have to buy enough food at the end of December for the first four days of  the new year. When we get bored of eating Osechi, Shabushabu is a popular dish as it is warm and family members can share food from one pot. Each slice of Kobe beef  in the photo was wrapped in cellophane. I have never eaten such expensive and delicious beef before. It was very tender and tasty.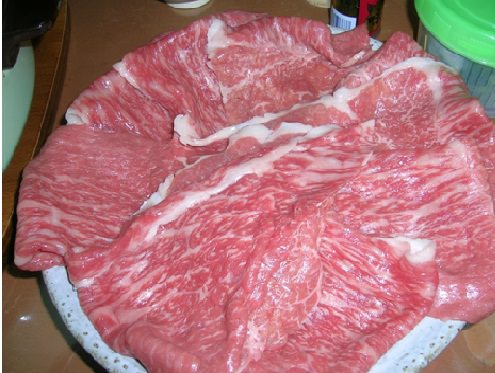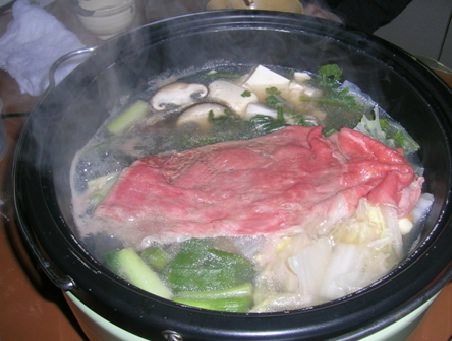 After eating various kinds of delicious New Year treats, we finish the meals by drinking powdered green tea and eating Japanese sweets. White miso paste seasoned with sugar and gobo (burdock) were put inside the rice paste. This type of sweet was eaten by nobility in Kyoto in the past as it looked refined and elegant.