On an island in the Seto Inland Sea, you can find beautiful modern art museums, architecture, and sculptures. Naoshima is an art island and known for its art museums. You might have seen images of one of Yayoi Kusama's iconic pumpkin sculptures located near Miyanaura Port. "Ando Island" also features many structures created by award-winning artist, Tadao Ando. A tour here wouldn't be complete without seeing Monet's Water lily paintings and other remarkable works of art. You can get to the island by ferry from Uno Port or Takamatsu Port. Travel time is about 3 hours from Osaka or Kyoto and 5 hours 30 minutes from Tokyo. Once you arrive on Naoshima you can utilize the Benesse house shuttle, local buses, walk or rent an electric bicycle.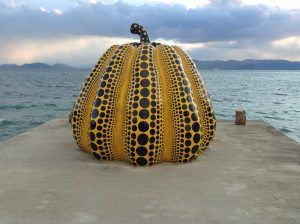 The Benesse Corporation installed most of Naoshima's artworks as well as those on neighboring islands. Benesse House Museum is a museum that also offers lodging. Staying at Benesse House is one of the best ways to experience the island and be immersed in artwork. There are three sections to the hotel; oval, park and beach. All rooms offer spectacular sea views and you can find artwork throughout the property. Benesse House Museum was the first location to open on the island. It was built overlooking the Seto Inland Sea. The museum artworks are displayed within the galleries but also in all parts of the building. Some artworks you will only have access to if you are staying overnight at Benesse House. You will also find site-specific works.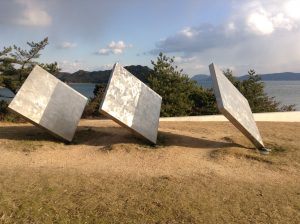 Next stop, Chichu Art Museum. This museum was built mostly underground to keep the surrounding nature intact. During your visit, the way you view the artwork changes with the natural light. Part of their permanent display includes five of Claude Monet water lilies series. Displayed in a pure white chamber, it is a unique way to see Monet's work. Do not miss the Chichu Garden where you can see nearly 200 kinds of flowers and trees similar to those that inspired Monet's water lily paintings in Giverny. Private tours of the museum are available and the James Turrell's Open Sky night program is available by reservation only.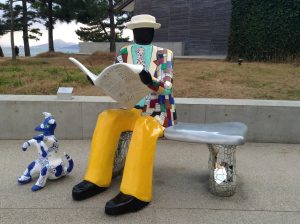 The Art House Project is a unique concept that takes abandoned houses, workshops and temples in residential areas and turns them into works of art. Artist(s) take the buildings and return them to the period when the buildings were lived in to preserve the building's history and memories. It is an inspired way to walk through the layers of time. 
Naoshima Bath art facility is a place to take a bath! This bathhouse has its own style and incorporates recycled objects from all over Japan. 
Naoshima has seven art sites. You also have the option of traveling to Teshima or Inujima to visit and additional 12 art sites. You can find detailed information on Benesse art sites here: http://benesse-artsite.jp/en/art/
The Setouchi Triennale is an international arts festival held every three years. The festival will be taking place again in 2022. One of the main goals of the Setouchi Triennale is to revitalize the region by bringing contemporary art and tourism to the islands. There are special travel passes available when visiting the Setouchi Triennale festival.
Tips:
Most exhibits on Naoshima are usually closed on Mondays (hours are adjusted for holiday weekends)
Most exhibits on Teshima and Inujima are closed on Tuesdays
Some of the spaces in the museums require you to remove your shoes. Choose comfortable shoes that are easy to take on and off
Any large items will need to be stored in coin lockers
Cell phones are prohibited on museum premises
No photographs, videos, sketching or writing materials such as pens
The bathhouse is most crowded before and after the arrival of the regular ferry