I had the opportunity to visit and experience so many amazing places while on our Best of Japan tour a few years ago. Each place unique in its culture and how it has integrated modern or traditional culture, as well as its local specialties to create a unique atmosphere and experience. Miyajima Island, however, gave me an experience that I will never forget.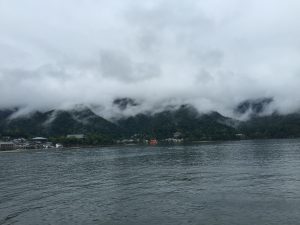 As I sit here reminiscing about my experiences on Miyajima Island, I can almost taste the incredible eel and beef that was served at the Kaiseki style dinner at the Kawaguchi, the ryokan that I stayed at while on Miyajima Island. The Kawaguchi is the primary ryokan that we use on Miyajima Island. This 300-year-old home is run by ninth-generation innkeepers, and the recipes have been passed down and perfected through each generation. Ask anyone that has stayed at the Kawaguchi and they will rave about the meals served here. 
Far beyond the ryokan though, my time on Miyajima Island was special. It was peaceful, and relaxing. Immediately upon boarding the ferry to the Island, you could feel the relaxing nature of the atmosphere. It feels slower-paced and tranquil. I traveled on this tour with my then three-year-old, so our activities while on the island differed from the rest of the tour, but the peacefulness surrounding the island is palatable.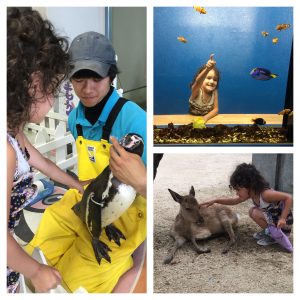 You are greeted upon arrival on the island by the famous Itsukushima Shrine- torii gate that appears to float, and wild but friendly deer. We visited the shrine on several occasions, the first at high tide, and then later at low tide to be able to walk under the shrine. We went to Miyajima Island Aquarium, which was a fun and unique experience, giving my daughter an opportunity to have an up close and personal meet-and-greet with a penguin. We later took the ropeway to the top of Mt. Misen to experience breathtaking views. Our second night there, we went to a nearby ryokan, the Miyarikyu, to take in the cultural experience of a Taiko Drum Show.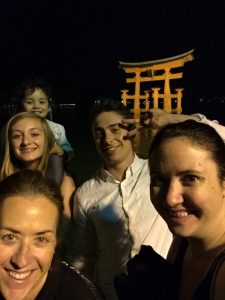 Between the street shopping, the views, the food and the cultural opportunities, there is nowhere comparable to Miyajima Island. Since my trip, I have booked a Momiji Manju Making class for a school tour, and have found that the Miyajima Traditional Crafts Center provides many opportunities for cultural hands on activities. If your trip to Japan takes you to the Hiroshima area, do not skip Miyajima Island. And, if given the opportunity, definitely take that upgrade to an overnight on Miyajima Island. I promise, you won't regret it.