If you have traveled to Japan it is likely that you have had the pleasure of tasting Matcha. While in Japan during the summer, one of my favorite desserts was Matcha ice cream. Oishii!  Matcha is widely used in a variety of desserts such as mochi, candies, pancakes, shaved ice treats, roll cakes, cookies, lattes etc. Matcha is a key ingredient in high demand not only for its umami but, equally for its health benefits.  According to NHK, the yearly production volume of tea leaves in Japan is 2,600 tons and it has increased three times in the last 30 years.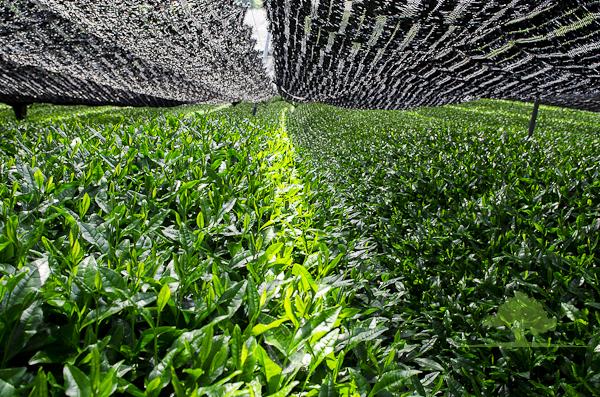 What is Tencha?
Tencha is the name of the tea leaves used for Matcha. The production of Tencha to Matcha is fascinating and intricate work.  About six weeks before harvest time, around March or April, the tea fields are enclosed in either a traditional straw house or black vinyl sheets. This is done to diminish the incoming sunlight and gradually, as harvest time nears, more and more of the sunlight is reduced. The plant will be induced to sprout tender, supple, delicate, vivid green leaves due to chlorophyll. These leaves encapsulate the superior matcha, sweetness with no bitter aftertaste, and will be harvested by hand. 
Tencha production:
Harvested by hand→Windblown dried→Leaves heated by brick oven→Whole dry Tencha Leaves→Stored in wooden boxes and kept refrigerated
Matcha production:
Cut to uniform size→Removal of stem and veins→dried again→processes batches are reviewed by appearance, flavor, aroma and color→batches blended→slow mill stone grinding into micro-fine powder.
Matcha that is found in sweets is called process-use matcha, it has an extremely strong flavor and the color is a slightly pale shade of green. Rich matcha is described to have a grassy aroma and taste. Neither is recommended to be consumed as you would matcha tea.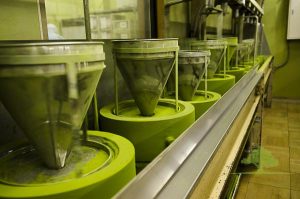 Recommendations:
Staff Pick: Eiju Matcha Marukyu Koyamaen High quality and a good price point.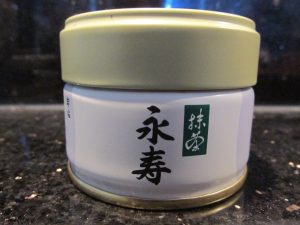 In the spring, you may view rows and rows of the beautifully arched, vibrant, green bushes in Uji, Kyoto prefecture. Uji is home to Marukyu Koyamaen, a tea grower who has been cultivating tea for over 300 years.You may arrange a Marukyu Koyamaen Matcha Factory tour by visiting their website.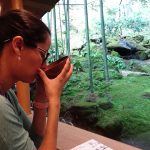 Experience a group tea ceremony in Kyoto, our Best of Japan tour includes this in the itinerary. If you are unable to join our tour you may easily arrange your own tea ceremony online through various websites. There are several options to choose from private ceremonies, kimono and 
private tea ceremonies, geisha apprentice and tea ceremony.  Also, if you find yourself in Kamakura, visit Hokokuji Temple also known as the bamboo garden. There is a tea house located within the bamboo garden, where you are able to purchase matcha tea and enjoy the serene view.