Kushikatsu, also known as kushiage, are deep-fried skewers of meat, fish and vegetables. In Japanese "kushi" means skewer, and  "katsu" refers to a deep fried meat cutlet. Kushikatsu is popular all over Japan. But it originated in the Shinsekai district of Osaka in 1929. A restaurant there started serving the skewers of fried food, which quickly became popular with the blue collar workers that frequented that area of Osaka at that time. Because it is handy to eat, inexpensive, filling and tastes good it remains popular in Osaka to this day. Although it is often overshadowed by other food specialties of Osaka such as okonomiyaki and takoyaki.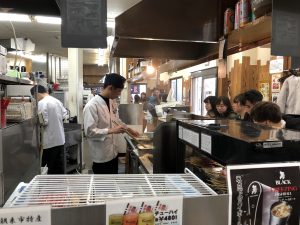 Kushikatsu restaurants are typically counter style with the counter surrounding the cooking area. But restaurants with fryers at each individual table are becoming more common. At these restaurants, diners will cook skewers themselves. Osaka-style kushikatsu is dipped into a batter of egg (usually powdered egg) and flour before frying. Kushikatsu from other areas of Japan are often covered with panko bread crumbs and batter using fresh eggs before frying. Osaka restaurants are also different because they will typically provide the dipping sauces in common containers. And there are many signs everywhere warning people not to "double dip" their skewers in the sauce after taking a bite from the skewer. Osaka restaurants also serve large pieces of cut cabbage leaves with the meal as well. The cabbage helps with digestion, and the cabbage can also be used to add more dip to your skewer to avoid double dipping.
Our Recommendation
There are many possibilities in Osaka. But we recommend "Kushikatsu Daruma" (串かつだるま).  (http://www.kushikatu-daruma.com – Sorry, they do not have an English web site) This small restaurant chain is an Osaka landmark, and is the place locals usually recommend. Their main shop, where it all started in 1929, is located at the base of the Tsutenkaku tower in the center of the Shinsekai area. Or, they also have a restaurant on Dotombori-dori as well as many other locations around Osaka. Around typical lunch and dinner hours, you should expect long lines.