Kurashiki is a city facing the Inland Sea in western Japan and it's between Okayama and Hiroshima. It's famous for its beauty of 300-year-old white warehouses lined along a canal. The walls are plastered with white clay. Green willow trees are planted along with the canal which runs through the sightseeing spots. It's relaxing to walk along the canal while seeing green willows swaying in the breeze. You can also take good pictures in Kurashiki since it is not so crowded with tourists.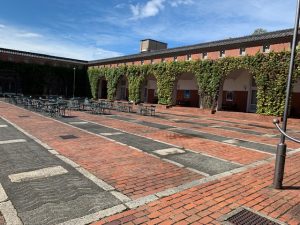 Kurashiki prospered as a center of water transportation during the Edo period. Rice and yearly tributes were distributed here and kept temporarily in warehouses. Many wealthy merchants built their houses in this area. Even after the modernization of Japan, this city flourished as a center of cloth spinning industry. A spinning plant was made into a modern hotel and tourist spot called Ivy Square.
About 500 buildings are still preserved as assets. Making use of the nostalgic atmosphere, many films and dramas have been filmed here. Just like other sightseeing spots in Japan, Kurashiki has many souvenir shops and 'dressed-up-in-kimono' studios. Still, it has serene atmosphere. It's only a 15-minutes-train ride from JR Okayama Station where Shinkansen bullet trains stop.