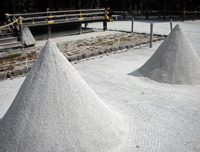 Kamigamo Jinja lies up against the northern hills, in a quiet residential area of Kyoto, and is therefore often less-crowded than shrines in the city centre, though no less impressive. The shrine is a designated UNESCO World Heritage site, and most of the shrine buildings are classified as Important Cultural Properties. The shrine was established in the 7th Century, a hundred years before Kyoto was founded.
When the Imperial capital moved to Heiankyo (present day Kyoto)
the Kamigamo Shrine, along with its sister shrine Shimogamo Shrine, enjoyed imperial patronage and support that has continued to the present.
Located on the banks of the Kamo River, its formal name is the Kamo-wakeikazuchi Shrine. Kamo Wake-ikazuchi, the god of thunder is enshrined at Kamigamo Shrine. One approaches the shrine across a large open space that is lawn, rather than the more usual gravel, and this gives it the feel of a park. The most unusual thing about the shrine are the 2 large sand cones that flank the entrance to the main shrine building. Known as Tatesuna, opinion differs as to their original meaning, but the most commonly accepted is that they represent the sacred mountain just to the north of the shrine.
Most of the shrine complex has been designated as Preservation Area of Historic Landscape by the municipal government and as a Historic Site by the national government. The area contains a heavily forested area, with small streams flowing through the complex. Here, nature and cultural properties coexist in harmony.
On September 9th the shrine holds the Crow Sumo ceremony, where young boys from the neighborhood compete at sumo to entertain the gods. Before the sumo, shrine priests perform rituals while emulating the call and movements of crows, hence the name. Entrance to the shrine is free, but at 9.30am most mornings there is a short tour of the shrine including a purification ritual for which a 500 yen "donation" is asked.
How to Get to There
From Kyoto station, take bus #4 to the Kamigamo-jinja-mae bus stop. The trip will take about 40 minutes each way.