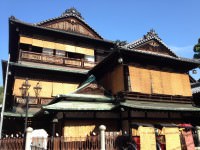 After traveling around Japan for all these years, I have come to really enjoy and appreciate the Japanese style baths. It is truly relaxing, and part of the Japanese experience that shouldn't be missed. Bathing is an important part of Japanese life and culture. And one of the best places to experience bathing in Japan are at onsens. However, over the years I have become aware there is a basic misunderstanding of what an onsen is.
An onsen, by Japanese definition, is a hot springs resort. Many people have the mistaken idea that the baths themselves are the onsen. While there are many names the baths can be called, the most common name is "大浴場" (daiyokujou) which literally translates to "large bath place". There are literally thousands of onsen all over Japan, and they can range in size from a single building to huge complexes with numerous accomodations available for guests. They can range in character from old, traditional-style buildings to areas that easily compare with Vegas for its gaudiness. It is generally thought that Dogo Onsen in Matsuyama is one of the oldest and original onsens. There are writings from the 6th century which mention Dogo Onsen, and it is even briefly mentioned in the Tales of Genji.
The primary reason the Japanese will go to an onsen are the baths. The secondary reason the Japanese go to an onsen are the baths. The third reason is…well, you get the idea. Actually, the food is very important as well. If you go to a travel agency in Japan and look at the travel beochures, you will find that the most common pictures shown are pictures of the baths and the meals. The rooms are usually an afterthought. The Japanese will sometimes fly long distances to visit their favorite onsen. Or, many times, people from a large city may visit a nearby onsen, such as people from from Osaka visting Arima and Shirahama Onsens.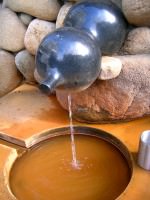 The baths themselves can, and will usually be different from onsen to onsen, or even within the same onsen. Some onsen have numerous outdoor riverside or seaside baths. While others may have only indoor baths. Wakayama Prefecture's Kawayu Onsen is famous for being able to dig a hole in the sand of the riverbed, and then waiting for it to fill up with hot water for your bath. There is a ryokan at Noboribetsu Onsen that has 17 seperate baths, each with its own temperature and type of water. (It's kind of like an onsen Disneyland.)
You will usually find other things to do at onsen as well. For example, at the huge Beppu Onsen on the island of Kyushu, you will find the "Beppu Hells". These are a grouping of geothermal features that can be seen as a collective tour. It is said the only other place on earth that produces more geothermally heated water than Beppu Onsen is Yellowstone. When you go to the Beppu Hells, don't expect anything on the order of Yellowstone however. There will usually be amusement parks at the larger onsen for the family, and you can always find the ever-present pachinko and slot parlors. It is my observation and thought that all of these are nothing more than something to occupy the time between baths. But seriously, onsen are a part of Japanese life, and will be for years to come. I would highly suggest you visit one, if nothing else for the experience.