The city of Morioka, located in northeastern Tohoku, is best known in Japan for its noodles. Jajamen is one of the "Three Great Noodles of Morioka". But lately, I have seen it in other cities in Japan including my local grocery store in Kyoto.
What is Jajamen?
Inspired by Zhajiangmian, a noodle meal made at homes in Northeast China, Morioka Jajamen was born at a food stall owned by Takashina Kansho about 60 years ago in Morioka, and has undergone many changes to cater to the taste of the local people to become what it is today. Jajamen consists of wheat noodles, similar to udon noodles, served with a scoop of meat miso paste, sliced green onions, sliced cucumbers and ginger on the side. Soup broth is not included. After mixing everything together evenly, you can add vinegar, chili oil or garlic to taste.
Chitantan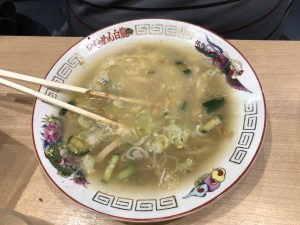 When you order your meal, you should order an egg. If you want to enjoy the popular "chitantan", you will need an egg. When you finish about 90% of the noodles, it is common to crack a raw egg into your bowl, mix the egg with the remaining noodle mixture and ask the wait staff for "chitantan". They will take the bowl and add soup broth. The soup broth will cook the egg making an egg, noodle, meat miso paste, onion, cucumber and ginger soup.
Where to Eat Jajamen
Jajamen is available almost everywhere in Morioka. But the Pairon Jajamen specialty shop was the originator of Jajamen, and today remains the favorite with the locals. The Pairon main shop, located near the former site of Morioka Castle, has a pleasant atmosphere, but is a 25 minute walk from Morioka station. Pairon also has a branch shop on the first floor of the Fesan Odense building connected to Morioka station. The branch shop has the same great Jajamen available.