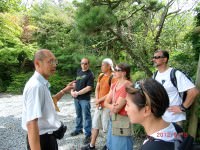 Japan is so beautiful, and you seem to see more, take more in, and get more of a 'cultural immersion' experience when you travel by foot and public transportation.  Another common question that comes up when people are considering our tours is "How much walking is there, really?"  We have clients of all ages participate on our tours, and all are welcome, but you will want to be very comfortable with walking and staying on your feet for long periods of time.  We always suggest comfortable, broken in walking shoes to use on the tour.  We take public transportation everywhere. So we walk to the subway and train stations, then we walk to our destination which is always nearby, but may be a good 10-20 minute walk, and we are often on our feet going through wherever we are visiting.  We do encounter stairs, and while there are often elevators or escalators around, they are not everywhere and not always available.
I can share a bit of my own experience as well.  I had participated on one of our Best of Japan Fully Escorted tours in early 2012, and even though I am a fairly active person, my feet were very tired.  Granted, I didn't follow our advice as well as I should have about wearing good, comfortable shoes (my shoes were a bit more worn out than I realized by the time I got there, but by then it was too late).  I felt very active in my walking with the group, and felt like we were getting some great exercise in (to help burn off all that delicious Japanese cuisine we have been eating!).  I wish I had brought better footwear, and I know how to prepare a bit better for next time. It was nice to have evenings free to relax in our rooms and prepare for our next day of adventure.
It is important that you feel you can keep up with the group and keep an average pace.  When reviewing our tour itineraries online, you may notice that we list if the walking is light, medium, or heavy for each day.  This is to give you a better idea and how to prepare.  You by no means need to be an athlete of any sort, but if you have a hard time with stairs or cannot comfortably walk some distance, you may want to explore different tour options such as our Bed and Breakfast tours where you can opt into certain tour day activities, or do a self-guided tour for you and your party, where you can go at the pace you would enjoy.  If you are not able to keep up with a tour group in a timely manner, you may be subject to additional transportation fees at your own expense.  If you would like to discuss more on this topic, please do not hesitate to contact our office.