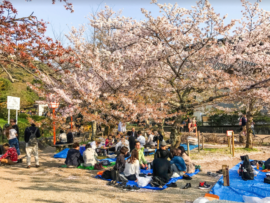 Hanami, literally means "flower viewing," is the traditional spring enjoyment and appreciation of cherry blossoms. There is nothing so typically Japanese as sitting under the blooming sakura trees in a park or on a river bank. It is also popular to make a special trip to a famous viewing area, or to attend a hanami festival. Scenic spots such as castles, temples and shrines are popular destinations, as is taking a boat trip to view the blossoms along the banks of a river. Some people even go to see a single tree that is particularly famous. Around 60% of the population takes part in hanami celebrations every year.
For some hanami is just a stroll in the park, but most people organize a picnic with their friends or colleagues. Everywhere cherry blossoms are to be found, you'll see groups of people sitting around eating and drinking. The most popular spots become so crowded that there's hardly a speck of empty ground to be seen. Some companies will send their junior employees to reserve a space for an after-work party, so you might see men dressed in business suits sitting around in a park all day on their blue tarps, waiting for their colleagues to show up. Along with alcoholic drinks like sake, beer, and shōchū, revelers bring food such as fried chicken, sushi, onigiri (rice balls), and edamame (soybeans). Some even go as far as to set up barbecues to cook on the spot. It's often said that most people are really only interested in eating and drinking, and that the cherry blossoms are just an excuse for a big party.
The cherry trees bloom at a different time every year, and earlier in the warmer southern areas of Japan than the north. Newspapers and TV report on the progress of the blossoms and provide news and forecasts about the "cherry blossom front" as they try to predict when they will come out in each part of the country. The flowers reach full bloom about a week after the first blossoms open, and will be falling after another week or so, though wind and rain sometimes speeds up the process. Perhaps best of all is the end of the season, when the petals fall like snow whenever there's a gentle breeze.
The special attention paid to cherry blossoms is often attributed to their fragility and short lifespan — a visual reminder that our lives, too, are fleeting.