"Gyu" is the Japanese word for beef, and "tan_ is the Japanese version of the English word tongue. Gyutan (beef tongue) is popular all over Japan, but it is most popular in Sendai. This is partly due to the fact that cooking beef tongue in Japan originated in Sendai in 1948.
Gyutan itself consists of thinly sliced beef tongue. It is normally salted and then grilled an an open charcoal grill. A typical beef tongue set meal includes barley rice, oxtail soup and pickles.
History of Gyutan in Sendai
Sano Keishirō, the owner of a yakitori restaurant in Sendai, opened a new restaurant that served cow tongue meals in 1948. Most locals falsely believe and even advertise that gyutan started when Sano decided to use cow tongues and tails left over by occupation forces, which were stationed in Sendai after Japan was defeated in World War II. However, beef tongues were retrieved by shopping trips via steam train to adjacent Yamagata Prefecture. Gyutan was initially considered a rather unusual dish, but gradually gained popularity throughout Japan, partially because white collar workers who were transferred from Sendai spread its reputation to other cities.
Our Recommendations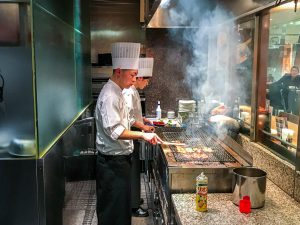 The two most popular gyutan restaurant chains with the locals are Rikyu and Kisuke. Both of these chains have branches on Gyutan Dori (gyutan street) on third floor of Sendai Station. The restaurants of Gyutan Dori open their doors at 10:00 while most of the city branch gyutan chains open for lunch around 11:00. Menus generally range in price from about 1000 yen to about 2000 yen. Anyone who has eaten beef tongue before knows it can be chewy. For that reason, we recommend you purchase a better quality beef tongue which should be not so chewy.