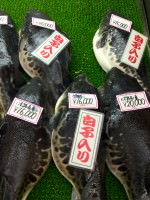 Osaka is said to be a 'Gourmet Paradise' for the Japanese and is famous for its specialties such as Okonomiyaki (savory pancakes) , Takoyaki (octopus dumplings) and noodles. Another specialty of Osaka, especially in winter is the poisonous fugu (pufferfish). Most of the fugu in Japan is caught in the Shimonoseki area (the water between the main island of Honshu and the southern island of Kyushu). But it is estimated that 70% of all the fugu eaten in Japan is consumed in Osaka.
Fugu sounds like "fuku" which means "happiness" or "good luck", and is an auspicious fish even though they are poisonous. While the entire fish contains small amounts of poison, the ovaries from the female fugu and the liver from the male fugu contain large amounts of neuro-toxins and must be removed prior to consumption. In spite of the fact that chefs who prepare fugu must be licensed by the government, people die every year from eating fugu.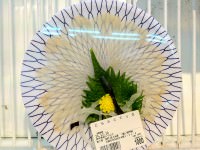 There is a Japanese idiom that fits in this situation. It is "Honey is sweet but the bee stings". In Osaka, fugu is also called "tessa", which in Osaka dialect also means "gun". The analogy here is that eating fugu is like playing with a gun. During the Edo Period, many Kabuki actors died from eating fugu because only wealthy people were able to afford fugu at that time.
One of the most popular fugu restaurants in Osaka is Zuboraya, a small restaurant chain found in the South Osaka area (Dotombori, Namba, Shinsekai). The restaurants can be identified by the large, distinctive fugu found hanging in front of their restaurants as can be seen in thephoto from the Shinsekai district of Osaka. The flesh of the fugu is normally served as sashimi. But the Zuboraya uses the entire fish. For example, fugu skin is used as a sashimi, fugu fins are served in sake, and they even serve fugu ice cream. Prices at the Zuboraya range from 1,000 Yen for a plate of fugu sashimi, up to 8,400 Yen for an elaborate set meal serving the entire fish.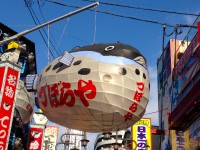 Osaka is included in a number of our tours including our Best of Japan and Best of Western Japan tours. For more information, visit our website at https://www.samuraitours.com.