Hokkaido, the northernmost island of Japan, is known for its natural beauty. Full of beautiful onsens, massive volcanoes, magnificent waterfalls, and untouched wilderness, Hokkaido is home to some of the most breathtaking views in all of Japan. One of these unique places that is not to be missed is Farm Tomita.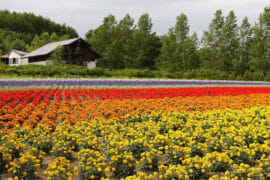 Known for its vast lavender and flower fields, Farm Tomita is one of the most popular tourist destinations on Hokkaido. With over 13 flower gardens and 14 shops and cafes, the farm displays a dream-like fantasy of color and wonder. The summertime reveals fields covered in a rainbow array of flowers, and the wintertimeoffers a photographic winter wonderland.
Summertime is the most popular season to visit the farm, as the flowers and lavender are in full bloom, and the shops are open for business. Farm Tomita is also known for its lavender flavored soft-serve ice cream that you can enjoy while relaxing in one of the quaint cafes after a day of exploring the flower gardens. You can also purchase lavender-based products such as potpourri, perfume, and soaps that have been cultivated at the farm since 1958. The farm opens its own station during the summer (LavenderFarm Station) so that it can be accessed easily by train and a 7 minute walk. In the wintertime, travelers can access the farm with a 25 minute walk or short taxi ride from Nakafurano Station.
You can visit Farm Tomita on our escorted Hokkaido Rail and Drive tour, or on our self-guided Hokkaido Independent Package. Don't miss the opportunity to explore one of the most colorful and majestic gardens in Japan!