Today was also a busy, packed schedule of wonderful sites to see.  First thing in the morning after breakfast, we all headed toward Fushimi to see the Inari Shrine.  It was a very large place, with lots of color (mostly orange).  There seemed to be noticeably more attendants at this particular shrine, as well as a drumming song and dance performed (no pictures were allowed here, but it was very different and beautiful).  We walked up a little further and saw the huge row of torii gates, all donated by different people and organizations.  It is like you are walking through a tunnel of torii gates almost.  Also, a famous scene from Memoirs of a Geisha was filmed here with the torii gates.  Also at the entrance of this shine, they have two foxes for protection there, which was different from what we have seen at other shrines (normally we see lions).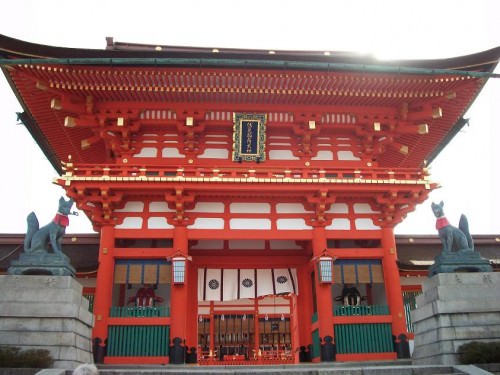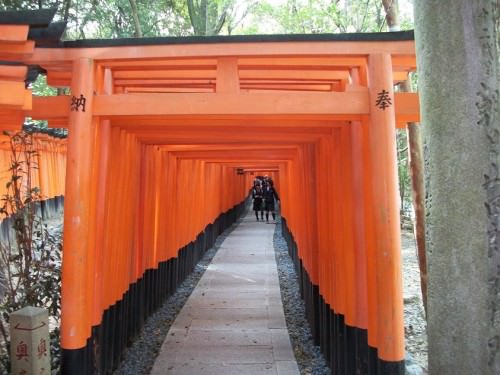 Next, we went to Nara, which was the first capital of Japan.  Let me tell you, I didn't realize how many deer I was going to see on this trip!  They too have swarms of tame deer, though these ones are a tad more aggressive to get their food (there is a spot where you can put in money and get food to feed them).  It was fun to see that.  Then we walked over to the Todai-ji, where we saw a HUGE bronze Buddha.  I mean, this thing was HUGE!  Pictures do not do it justice.  And the wood building that it was in was just absolutely enormous.  It is certainly breathtaking when you first see it.  I was also told that it was the largest wooden building in the world, and it wasn't even the first one they built (there were two other buildings before this one, both destroyed by fire, and were actually a bit bigger!).  Inside, there is also a wooden pillar that has a san mall hole at the bottom of it.  It is said that if you can squeeze through this opening, you will be granted enlightenment in your reincarnation.  We saw a bunch of skinny high school students doing it, and of course my husband had to give it a try, just to see if he could do it.  He has pretty broad shoulders, and it took a lot of grunt work, but got through it pretty painlessly.  I got that one on video for myself, haha.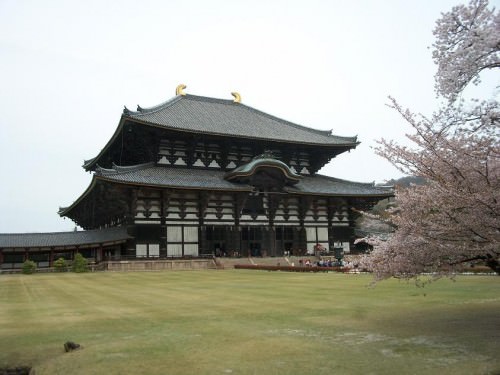 Then we headed to lunch near a busy shopping center.  Our guide, Tammy, showed us where we could get second-hand, but in great shape, kimonos.  I actually ended up getting one for myself!  They did have some great bargains.
Then we were off to Uji, where we participated in an authentic tea ceremony.  The attendants were dressed in nice kimonos, and served us sweets and green tea.  It was a fun experience.  Right after this, we toured Byodoin, and the famous Phoenix hall.  Here was a beautiful landscape and phoenix positioned at the top of this temple.  We went into the museum and looked at some neat artwork and got some information about this temple.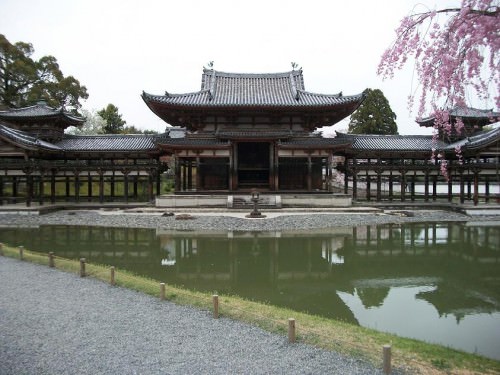 After this, we headed back to the hotel, and we were on our own for the evening.  Marshall, Mike and I went and had some tempura, and shopped at one of many 100 yen shops (similar to our dollar stores).  Their dollar store is WAY better than our dollar store, and I would highly recommend going into one to see all the neat things they have!