Today was a very fun-filled and packed day!  We started the day at the Ryoan-ji, which is known for their rock garden.  In this particular garden, there are 15 rocks  in raked sand. When sitting on the deck, only 14 rocks can be seen at one time. You can try to move and see the one that is hidden, but once it is in view, the other one disappears.  There are many meanings and interpretations to this, and we are encouraged to use our creativity.  Also in Buddhism, the number 15 means completeness.   There was also very peaceful and beautiful scenery here.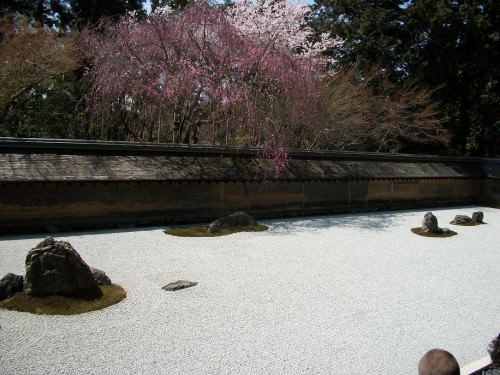 Next, we decided to catch an early lunch to beat the rush, and hopefully go to the Kinkaku-ji (the golden pavilion) when everyone else decided to go to lunch.  The Kinkaku-ji is quite the site to see.  It is covered in actual thin gold leafs.  It shines ever so brightly.  It is in a beautiful setting on a peaceful lake.  We were able to walk around here and enjoy the scenery as well.  At the end of the walk here, there are lots of food vendors where we got to try some tastey samples of different snacks and desserts (we purchased some amazing wasabi peanuts).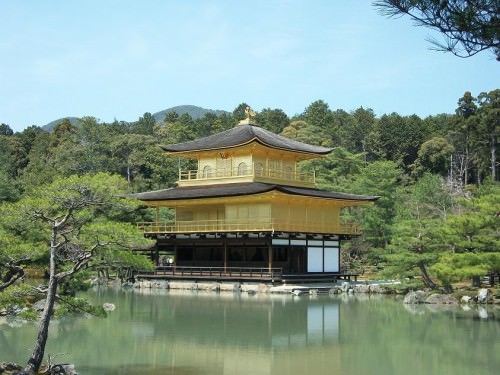 After this, we went to see Nijo Castle.  I was excited to see this one as well, and compare it to Osaka Castle.  This one is very different, but just as amazing, in its own way.  We weren't permitted to take pictures inside, but so let this enthuse you to come and see it for yourself!  Inside, every room was painted gloriously with amazing artwork.  Some of the artwork in the castle was over 400 years old!  There were also paintings of leopards and tigers together in one of the rooms.  Back then, the Japanese thought that the leopards and tigers were the same type of cat, but one was male and one was female.  It wasn't until later that they realized they belonged to a different group.  Another thing you will notice is their amazing woodcarving work!   Below, see a picture from the outside of the castle of an intricate wood-carving.  It was very beautiful.  Also, this castle is known for their nightingale floors.  They designed these floors to make a noise when people walked on them, like a musical creek (higher and more melodious to me than a normal creak in a house, kind of a whistling noise) so they knew when people were coming down their hall (used often for protection to know if someone was trying to sneak around the castle).  There were also lots of beautiful blooming cherry blossoms in this area.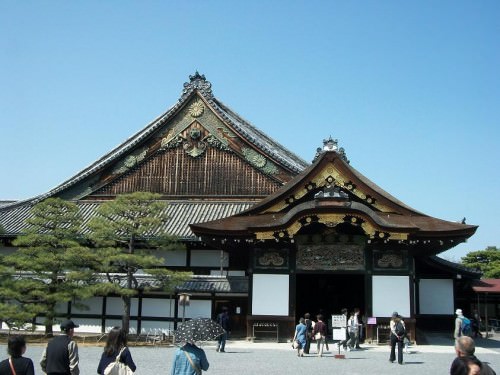 Then we all headed over to the Gion Geisha District.  First we walked through a long shopping cooridor where people were selling lots of food and drink.  Then we walked more into the town.  There is an older-time classic feeling about these streets as you walk through them. We learned more about the geishas and maikos (though geishas are called geiko here, since they do not want to be associated with the more derogatory association of geisha).  We learned a bit about how the women get into this sort of entertaining business, and what the difference is between them.
After all this, we were ready to rest!  Marshall, Mike and I all went out to dinner again, and this time to try some more traditional okonomiaki.  It was really good as well, and very similar to the Hiroshima-style that we tried the other day.  We also looked around a large electronics store (about 6 stories high!), and each floor specializes in a different genera of electronics (home appliances, TVs and computers, cameras, phones, etc.).  We even got to test some massage chairs, however, I got into one and couldn't figure out how to get out of it (I was at such an incline, I would have had to literally climb out).  I was laughing so hard that I was crying, and Mike was able to press the right configuration of the buttons to let me down (it took us a few minutes)!  So enjoy, but beware of the massage chairs, haha J