I love this island.  A fun fact: there are tons of small, wild deer that are completely tame.  I actually saw some of them posing for pictures with big groups (I am sure the photographer had food or something to make them cooperate). Be weary of paper or clothing though, they tend to eat them if you aren't careful.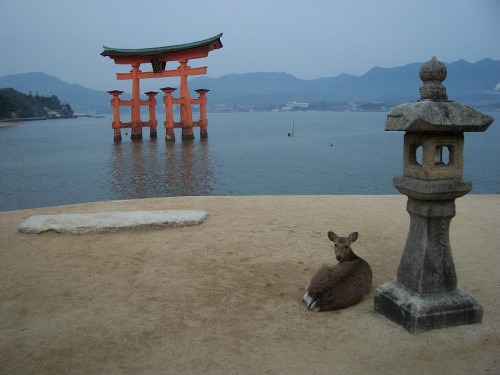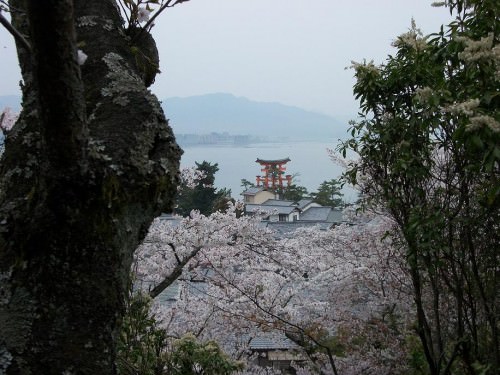 Marshall, Mike and I spent most of the morning on a beautiful hike around the island and up the ropeway. The cherry blossoms just add to the beauty of the green, lush scenery. We stopped at Daishoin Temple, where there were a few beautiful shrines and buildings, as well as gardens and koi ponds. We decided to take the ropeway round-trip to the top of Miyajima (you have the option to hike up and down). At the top, sometimes you can see monkeys, however, I only found my husband, who acts like one sometimes. There was a wonderful view up there, where you could see all the other smaller islands. We also saw several Japanese Navy ships in the water below.
After we got back down, we enjoyed a walk through the Itsukushima Shrine.  It is built to where when the high tide comes in, it comes up right below the floorboards, so it looks lovely on the water.  We did see a bride and groom there, getting their pictures taken (even though it was considered an unlucky day).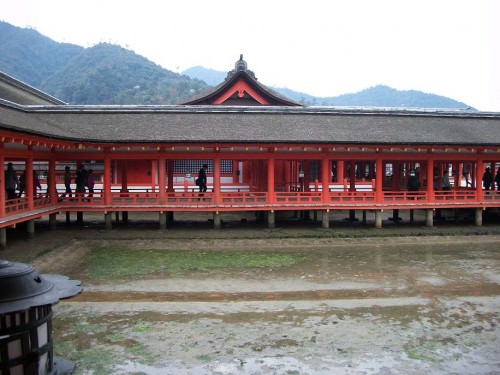 Then it was lunch time.  We had quite a feast, trying a few different things from different vendors and restaurants.  We started with a fried momiji manju (a small cake shaped as a maple leaf, and filled with different things such as sweet red bean paste, custard, cream cheese, chocolate, etc.).  The island is known for their momiji manju, but the fried one was sooo amazing (I HIGHLY recommend you try the custard one fried).  They make them all through the shopping strip, and you can see their machines right in the window, making them.  It is very fun to watch!  Then we had some Japanese curry on rice with fried pork which was very yummy.  Of course, we had to try some of their famous oysters (they have a ton of oyster farms right off the shore there), and in particular we had ours grilled.  I don't recall ever having oysters before, but I did enjoy it (and I was skeptical!).  Then we finished off with some chocolate covered manju.  It was quite the feast for lunch.  After this, we had some free time to rest and do whatever we would like for the rest of the day.  We had another feast for dinner at the ryokan at 7, and then went to bed.  A very nice day!