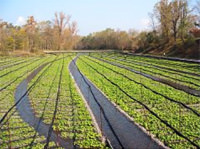 The Daio Wasabi Farm is located about 32 kilometers north of Matsumoto in the city of Hotaka. The farm, covering 15 hectares, is the largest wasabi farm in Japan. Established in 1915, the natural water springs fed by melting snow from the surrounding mountains enable the farm to produce 150 tons of wasabi annually. Its beautiful watermills alongside the clear river running through the farm and views of the surrounding Japan Alps make it a popular tourist spot with the Japanese. The farm is also famous for its appearance in the 1990 film "Dreams" by the world-famous film director Akira Kurosawa. The watermills and river appear in the segment called "Village of the Watermills". These watermills still remain today, and can be best viewed by taking one of the special raft tours available during the spring and summer months.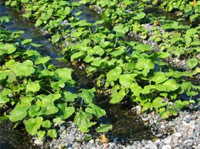 The wasabi is cultivated in flat gravel beds irrigated by water from natural water springs. The chilly mineral water is ideal for growing the wasabi. The farm is also notable for its restaurants offering a wide array of tasty foods featuring wasabi. Visitors can try wasabi soba, wasabi tempura, wasabi curry or some of the slightly less conventional foods such as wasabi ice cream, wasabi wine, wasabi cheese, wasabi chocolate and many other wasabi-themed products too numerous to mention that are surprisingly delicious despite their rather strange-sounding taste. You can even pickle your own wasabi in a 20 minute workshop.
A visit to the Daio Wasabi Farm is included in the Back Door to the Alps tour. See the web site for details.
How to Get to the Daio Wasabi Farm
Take the JR Oita line from Matsumoto (Track 6) to Hataka. The train ride will take about 30 minutes. From the Hotaka station, you can take a taxi (about 1300 Yen), rent a bike available in front of the station (200 Yen per hour) or walk (about 40 minutes). The farm is open every day through the year and there is no admission fee.