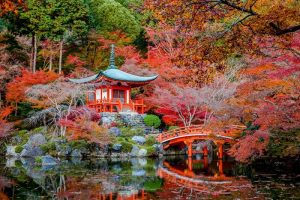 Cooler, crisp air, beautiful foliage, and less tourist traffic makes Autumn in Japan one of the best times of the year to visit. Remember to pack layers, as the mornings and evenings are cooler, but daytime temperatures may remain warm and pleasant. There are many different types of festivals happening during this time of the year as well, and visitors should check local guides for dates and times. The fall foliage, however, is what many tour participants come to Japan to see.
As the sweltering temperatures of summer start to drop, the leaves begin to change into colors of yellow, orange, red, and brown. It is an astounding sight which has inspired artists and writers for many years. The Japanese call this natural occurrence Koyo or Momiji (meaning red leaf). The pastime of searching for the most vivid colors of leaf is known as Momijigari (red leaf hunting). It has been a favorite activity in Japan for centuries and is now very popular among tourists.
The Japanese Maple leaf is widely used in designs on screens, dishes, kimonos, and other fabrics, as it is the symbol of Fall in Japanese culture. You can also find many types of treats to enjoy in the fall, such as maple shaped cakes. Even the leaves themselves are often eaten as tempura; a tasty deep-fried snack, often accompanied by some Japanese Tea.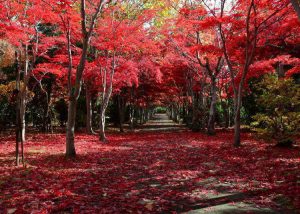 The timing of the leaf changing in Japan varies from year to year due to temperature, elevation, and latitude. The islands to the north and mountainous regions will see autumn colors earlier than other parts of Japan. When the weather gets cold early, the Japanese fall colors appear earlier, even as much as several weeks early. Likewise, the same is true when the weather stays warm longer.
The amount of color you will see is dependent on when you are traveling. Generally speaking, the Fall Foliage season begins in mid-September on the island of Hokkaido, which the furthest island to the north. In other parts of Japan, like Tokyo and Kyoto, the best viewing times are usually between mid-October through early December. The highlight of the viewing in each area generally lasts between two weeks to over a month.
As far as where to go to see the fall colors, really anywhere in Japan is a good area for Koyo viewing. Getting out in the mountains and hiking can provide some stupendous leaf-peeping.  Even while visiting a big city such as Tokyo, many city parks offer thousands of trees. Alternatively, if you are traveling by train, you will see many colors in the countryside out of your train window.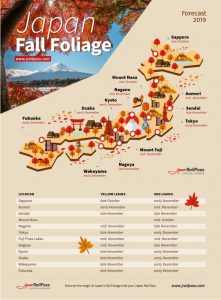 The Fall Foliage Forecast from JRailpass.com is one of the best tools to determine when to plan your travel to view the Autumn leaves. Check out our Tour Date Calendar to see which tours we offer during Fall Foliage Season!