Anime and manga are big parts of modern Japanese culture today as well as attracting fans from all around the world. Here is a shortlist of destinations for the manga/anime lover travelling to Japan.
Ghibli Museum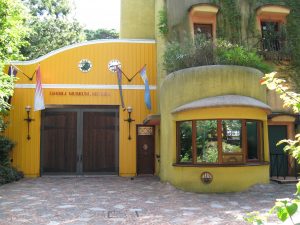 If you are a fan of Studio Ghibli and their famous works such as My Neighbor Totoro, Spirited Away, Princess Mononoke, Ponyo and many more, then this museum is a must-visit. Officially called Mitaka Forest Ghibli Museum, the Ghibli Museum was designed by Hayao Miyazaki himself. It is located in the Tokyo suburb of Mitaka and showcases all of the famous Ghibli movies. Exhibits change throughout the seasons and include a rooftop garden, a model of the Cat Bus in which children can play, there's even a very large Totoro to welcome visitors. In the museum, you can see how a film is created, watch original short movies in the theater that you won't be able to see anywhere else, purchase artwork, visit the library and art collection room, and more.
Kyoto International Manga Museum
Housed in an old elementary school. the museum "strives to preserve, study, and research the culture of manga throughout history." How much manga does the Kyoto Museum hold? There are some 300,000 comics and manga-related exhibits. Visitors can read any of the manga from the wooden bookcases that line every wall and hallway (Provided you know Japanese, a small section of the books is dedicated to foreign and translated manga). You'll find manga pages all around you not just in the displays, but even covering the floor. In addition to its permanent collection, the Manga Museum also features temporary exhibitions on various themes.
The museum is a one-minute walk from Karasuma Oike Station on the Karasuma and Tozai subway lines.
Tezuka Osamu Museum
Constructed to resemble a medieval European castle, this museum celebrates the nature-inspired work of Tezuka Osamu. Osamu was the creator of iconic Showa-era manga characters like Astro Boy and Kimba the White Lion. Astro Boy was adapted by Osamu from manga into one of the first successful Japanese animated television series.
While the text in the museum is written in Japanese, the front desk has a laminated booklet with full English translations. One highlight of the museum is the screening (every twenty minutes) of an obscure Osamu work. The lower floor features a display where you can learn how to create your own anime. There is also a cafe styled after Kimba the White Lion where you can grab a snack or a cup of coffee.
The museum is located in city of Takarazuka in northern Osaka Prefecture, the childhood home of Osamu. It's only forty minutes to Takarazuka Station from Hankyu Umeda Station. From Hankyu Umeda Station, walk down Flower Street (Hananomichi) you'll see tiles on the path with portraits of Osamu's more famous characters leading you to the museum entrance.
Dogo Onsen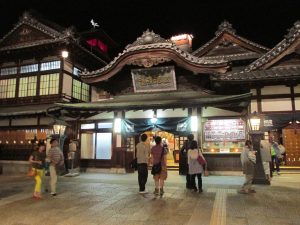 When in Japan, hot springs, or onsen, are a must and what better way for an anime fan to relax than in the very onsen that Yubaba's bathhouse from Spirited Away is based on. Dogo Onsen is one of Japan's oldest and most famous hot springs. The place has gotten a surge of visitors from foreign visitors ever since the Academy Award-winning movie was released.
The onsen is located in the city of Matsuyama on the island of Shikoku in the south of Japan. After taking some pictures, be sure to go in and relax in the baths. You won't find any river gods or spirits at Dogo Onsen, but you will find a rejuvenating experience that will refresh your mind and spirit.
Odaiba Gundam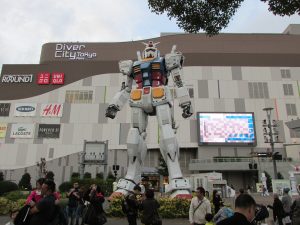 Dating back to 1979, Gundam is one of the most enduring anime franchises. Gundam Base traces the history of Gundam in its museum displays and also offers plenty of shopping including models that can be assembled in-store and Gundam themed refreshments. Don't forget to take a selfie beside the 18-meter life-size RX-78-2 Gundam standing watch outside.
Toyosato Elementary School
Used as a basis for Sakuragaoka High School, in the popular anime K-On!, Toyosato Elementary School's old school building has become a major anime tourism spot ever since the anime first aired back in 2006. The school has been abandoned since 2004 but people still visit it to get a look at the exterior and hallways that were featured in the show. Many fans also make the pilgrimage to celebrate the birthdays of their favorite K-On! characters as well as to hold cosplay photoshoots.
Yakushima
Yakushima is another destination for fans of Studio Ghibli. Yakushima inspired Miyazaki in creating the lush forests seen in Princess Mononoke. Shiratani Ravine, in particular, will remind you of the film as you hike around the island. Yakishima is a unique beautiful landscape that will also appeal to those who like to explore the great outdoors.
Washinomiya Shrine
Fans of the anime series Lucky Star looking for a fun way to spend their New Years in Japan will want to check out the Washinomiya Shrine in the Saitama Prefecture. Washinomiya is the birthplace of the Hiiragi sisters, who work as Shrine Maidens and one of the main characters' father is the shrine's chief priest in the amine. The shrine itself has gotten a lot of visitors thanks to the anime, and it has recently topped 470,000 visitors for New Year's Visit (Hatsumode) alone.